Check out this idea for just beautiful quick and easy handmade fall cards that give all the Fall feels!
We think you will LOVE this idea for quick and easy handmade fall cards because number one – they are gorgeous! And number two – they are the perfect project for when you really want to craft but maybe haven't yet felt your super creative energy kick in yet. And maybe number three – these are the perfect cards to make when you are binge watching the latest juicy series or catching the hot streaming movie of the week.
Natasha created this for us today using the classic approach of taking a beautiful stamp and coloring up the images using the rich look of colored pencils. Sometimes going back to basics yields results that are so perfectly simple, that simplicity IS the beauty.
Let's get Natasha's details so we too can make one of these charming cards.
Start by stamping the flowers from our Thank You Daisy set using your darkest brown ink. (You can use a very dark gray or black, too.) Stamp a few times to create a little scene.
Get out your favorite colored pencils – Natasha used her Prismas – and choose the colors you want to use, selecting a few shades of each color so you can build up some dimension.
Now here's a great PRO TIP from Natasha: To let your color choices really POP, color in your images with a white pencil first to allow all of the vibrancy and saturation of your colors shine. (You can see the white on the not-yet-colored tips of the petals here.)
Add your colors in layers to build that beautiful dimension and shadow. For her daisies, Natasha used various shades of yellow, orange, deep red, and even a dark purple for the shadow layer. You can watch your flowers come to life as you color!
Once you've colored everything in and you get a break between episodes of whatever you're watching, add your sentiment in the same color ink where it looks best and – voila – a quick and easy card for Fall that is a miniature work of art!
Make all your panels and then just pop 'em onto card bases when you need something to send. You could also die cut your panels if you wanted to add a little extra something.
Here are the stamp sets Natasha used today – one for the daisies and one for her sentiment: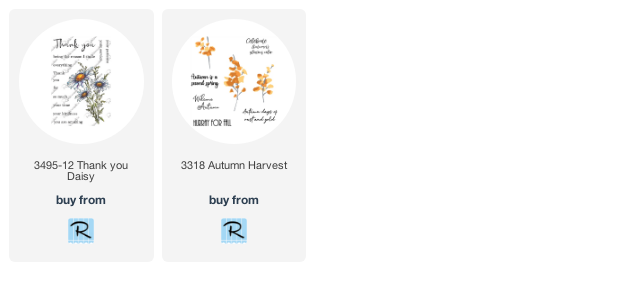 Natasha said that she thinks this idea for quick and easy handmade fall cards could be turned into a fabulous gift set using different color stories for each card. What a GREAT idea! You get to get your craft on and knock out some gifts!