Learn a fast way for making Autumn cards with a stencil and a simple cover die – easy and SO pretty!
We've been loving seeing all these ideas for making Autumn cards this month and today's card is so pretty and so easy to make! We do want to say that the photos just do NOT do this card justice! The layering and shading of the ink are so dynamic in real life and we know if you try this out you will agree that this card is a stunner!
Melinda made this for us today and she's sharing all the details – let's check them out!
For this card, Melinda used her oxide sprays. If you don't have them, experiment with using what you do have or add a few drops of the Color Fuse Ink Reinkers you want to use to some water in a spritzer and play around!
Start by cutting a piece of watercolor paper to card panel size. Give our Fall Stencil a spritz of Pixie Spray (or use low-tack tape) to affix the stencil to your panel. Using either an empty box or your own setup, place the panel inside to catch any overspray. Using your sprays, add color to this panel as you wish. Remember, there's NO "plan" – just add the color where you like it!
Remove the stencil, wipe it down and set the paper aside to dry thoroughly while you make the other elements on your card.
Take a piece of white card stock and ink blend Fuchsia Color Fuse Ink from Set #5 over it, concentrating the color at one end and blending out lighter to the other to create a ombre effect. Cut that piece with our Diamond With Holes Cover die.
Next take a piece of card panel sized white card stock and cut the lower third with your choice of edge from our Borders #1 set.
Using Amaretto Color Fuse Ink from Set #1, stamp your choice of sentiment – Melinda used one from our Composable Freehand Borders – in the lower portion of this die cut piece.
To add a touch more visual texture to your beautiful leaf background, use the dots from our Splatter Stains set to add some Cinnamon Color Fuse Ink from Set #3 here and there. PRO TIP: Don't reink every time to get some variation in color darkness and intensity.
Now put your card together. Adhere the Diamond cover die over your stenciled panel and then add your sentiment element with some dimensional adhesive. A few pearls for a little accent and your card is ready to go!
Here are the things Melinda used from our store to make this card: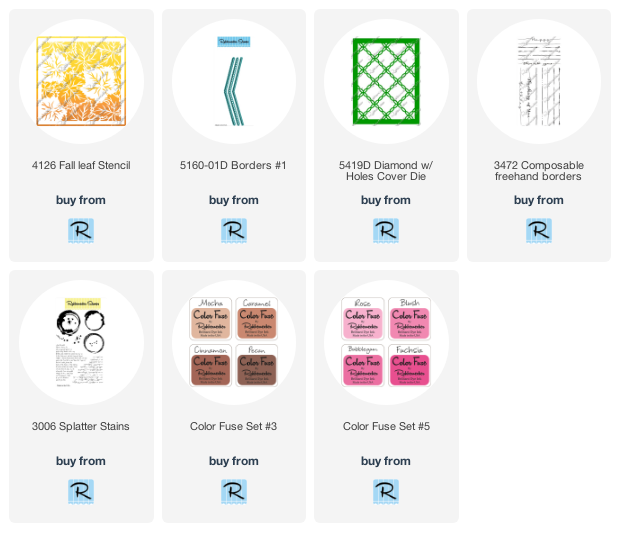 This is such a fun idea for making Autumn cards with lots of color, texture and dimension and NOT a lot of fuss or precision. Let your creative side have fun and make a bunch of these cards to share with your special people!