A fun way for repurposing a failed craft project!
So, WE wouldn't have using this term but today Melinda wanted to share with us her latest take on repurposing a failed craft project. Honestly, we see NO "failure" here! But here's what Melinda had to say "I have a pile of possible fails in my craft room and occasionally go through it to look for things I might be able to save and or aren't as bad as previously thought. This floral panel from the Sweetest Sunrise set was the latter for sure!" Ooooooo-kay, Melinda! LOL!
Let's take a look at how Melinda first made this panel she didn't love at first and then how she adapted it to make this really pretty card.
The Making of the "Failure"
First, Melinda stamped the florals from our Sweetest Sunrise set at the top and bottom opposite corners with Versmark and then heat embossed with white powder. Next, she wet the entire panel with a brush and used Color Burst liquid watercolors to add some watered down Crimson around the flowers and let the the color flow around as it wished.
Then Melinda dabbed on a bit of light green, also watered down, over the leaves and a little in the background. At this point, she let the panel dry completely.
Next, she colored the flower and leaves areas with the same colors in a darker saturation to let them stand out against the background, again letting it dry completely.
When that layer was dry, Melinda inked up our Lots of Random Dots background stamp with Arctic Color Fuse ink from Set #7 and stamped over the entire panel.
The Making of Today's Card
Melinda took this panel – which we think is lovely! – and using the smallest die from our Slimline Nested Stitch die set, she cut her panel four times (she only ended up using three on this project). While she had her die cutting machine at the ready, she also used our Butterfly #3 die set, cutting the base layer with plain white card stock and the detail layer from white glitter paper.
She then blended some Fuchsia Color Fuse Ink from Set #5 onto the base layer of her butterfly and added the detail layer over it, adhering it only in the center so she could lift up the wings a bit for some dimension.
Melinda cut some white card stock into a A7 card base (an A7 card is 5 ⅛" X 7″) and gives you an interesting take on a traditional handmade greeting card. She adhered three of her die cut strips to the front using foam tape. Melinda says "For this triptych look to work the best, just make sure your strips are all laid down to match so your design correctly spans over them. If you want them to be "perfect", you can use a T-ruler to line them up.
For her greeting, Melinda stamped the sentiment from our Brush Butterflies set, due cut it with the smallest die in our Inside Scallop Nested die set and and adhered it to the bottom right area of her card with more foam tape, slipping in a few loops of fine silver thread behind before doing the actual sticking. She then popped her butterfly onto her card with foam tape and this "failure" was a huge success!
Here are the items from our store that Melinda used today: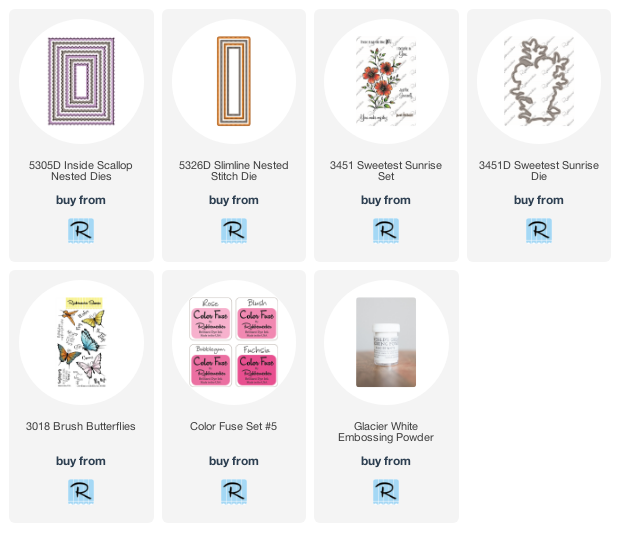 Again, we don't know about you guys, but we don't exactly see the "problem" with what Melinda created – it's so pretty and colorful. But beauty is subjective and if you aren't feeling it then you just aren't feeling it! However, we are SO glad that Melinda decided to show us how repurposing a failed craft project can be such a beautiful thing indeed!