Grab this idea for cute cards to cheer someone up, no matter how old they might be!
We are in love with this idea from Natasha for some truly cute cards to cheer someone up of send them a sweet note of encouragement. When you think about it, we send lots of cards for big occasions and we know that it's the everyday stuff that ends up mattering the most. Why note send one of these sweet notes just to let them know you've got their back?
Natasha says "I fell in love with this adorable elephant and couldn't wait to ink him up!" He IS super adorbs, along with his pals from our Babies on Balloons set. There's just something extra smile-worthy when you think of a baby elephant, with all his weight and heft even as a little guy, floating away. Let's see how Natasha brought her idea to life.
First she stamped the images she chose from the stamp set using alcohol friendly ink and added all her gorgeous, bright colors with her alcohol markers. When she had them all done, she cut them out with our coordinating dies.
Then Natasha covered her balloons and a few spots on her baby elephant with a few dabs of glossy accents, sprinkled them with glitter and set them aside to dry. PRO TIP: using a clear drying glue and glitter not only adds sparkle but just a hint of dimension, creating that visual movement that keeps the eye – and the part of the brain that gets happy from seeing cute cards! – engaged.
Next, Natasha followed the directions for the correct "sandwich" for her die cutting machine to use our Circle Background With Stitch Die to use as an embossing plate and embossed all those pretty circles onto a piece of white card stock. She then cut that panel with one of the dies from our Nested Rectangle Die set.
Using the same Circle Background With Stitch die, Natasha cut a piece of patterned paper with it and used our Borders #2 set to cut another piece of the same patterned paper. While she had her die cutting machine out, she cut a piece of white card stock with our Rectangle Combo #4 OPC (One Piece Cut) die and set aside the largest outside frame, saving the other pieces for future projects.
Natasha arranged her parts and pieces onto her embossed circle background and when she had them laid out where she liked, she stamped her balloon strings onto the panel. She then adhered her border cut patterned paper to the bottom of the embossed panel and adhered some of the patterned paper die cut circles into the embossed circles using a mix of liquid glue and foam adhesive for some dimension. PRO TIP: You will notice that Natasha didn't align the pattern in the same direction in all the circles. This is another great way to give the entire scene more of that visual movement! She then added her white die cut frame over her scene and last she added her little elephant with more foam tape over the patterned paper.
For her sentiment, all she did was stamp it onto a scrap of white card stock, cut it with another die from the Nested Rectangle set and added that, too, with foam tape. To echo the circle theme and to add some more movement and a little more bling, Natasha finished off this adorable project with a few gems in coordinating colors.
Here are the items from our store that Natasha used to make this for us today: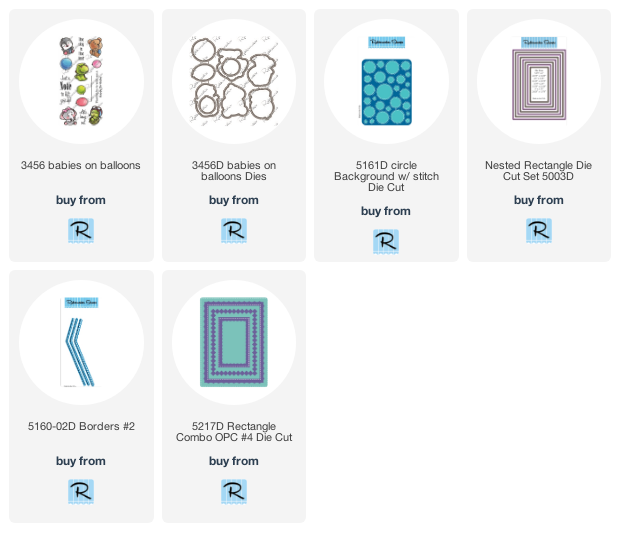 We can see these cute cards to cheer someone up made in any color story and with any patterned paper and have them come out just as sweet and cheerful every time!