Today's card combines stencils and gradient inking to create a beautiful autumn scene loaded with warmth and whimsy.
There are so many fun ways to create beautiful effects with stencils and gradient inking tips used today helped make a rich and glowing background on this card. You can almost feel the warmth of that autumn sunshine seeping through these detailed birch trees! Renee created this for us today and here are her details so we can try this, too. Let's take a look!
First, Renee stamped her frisky little foxes and little mouse from our Be Wild set, coloring them in and then cutting them out with our coordinating dies.
Because our new Birch Tree Stencil was designed to let you keep the trees white – as birches are – Renee started with a piece of white card stock for her gradient inked background. She laid down the first layer of the stencil and taped it down to minimize any shifting. PRO TIP: For any stencil, and especially our more intricate ones, you may want to get your hands on some Pixie Spray which offers an all-over low tack adhesion.
Renee makes a point of sharing that even if your stencils DO shift, on certain cards, like those with themes of nature or ones that are more rustic in style, small shifts might be welcomed! So don't think it has to be "perfect" to be beautiful! Thanks for that reminder, Renee!
She then used shades from Color Fuse sets #3, #2 and #1 and blended from dark to light. Our Color Fuse ink was formulated specially to blend beautifully and on this card, that gorgeous effect is fully appreciated! Gradient inking is very similar, almost a twin, to ombre. The only difference really is that ombre effects tend to be all one shade of the same color where gradient inking is more than one color, blended in degrees of intensity.
After all her blending was done and she could feel that autumn sun, Renee removed the first stencil layer and used the second to add the birch details to the trees using Pecan Color Fuse.
Renee then used our Nested Rectangle set to cut a piece of patterned brown paper and adhered it to her kraft colored card base. She then used another die to cut a piece of black and adhered that to the center of her card and then yet another die to cut her stenciled background but did not yet adhere it. Using nested layers like this brings all the attention to the focal elements on a card.
Renee took her background panel, placed it in her stamp positioner and then arranged her foxes on the panel just to get an idea of where she wanted her sentiment. She removed the foxes, stamped the sentiment directly onto the background and THEN adhered this to the center of her black card stock panel.
She then popped her little critters onto the scene using foam tape, some sequins in little clusters to imitate leaves and added a pretty bow at the top.
Truly adorable! Here are the goodies from our store that Renee used today – don't forget to add this new Birch Tree Stencil set to your cart – it's perfectly sized for all kinds of sweet cards like this one!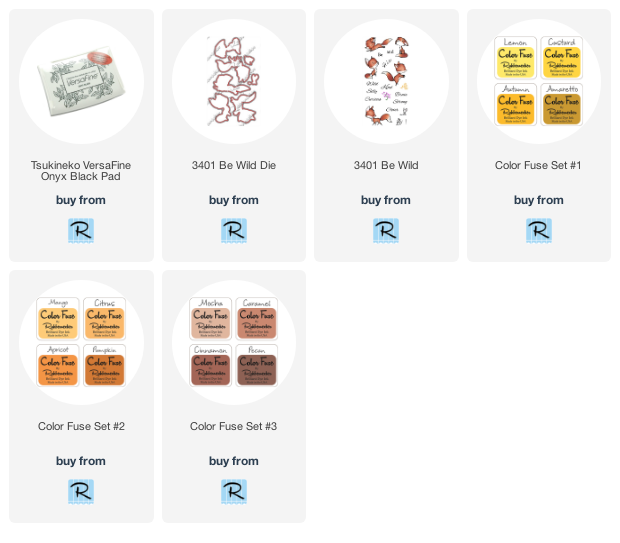 Are you starting to see some other stencils and gradient inking ideas in your mind? WE sure are! This card is the perfect way to start trying out this fun technique and what friend wouldn't love to receive one of these?