See why Rubbernecker's Spook-tacular paper is zipping through the mail to people everywhere!
When we created our Paper Pads, we believed and hoped that our peeps would love them as much as we do. Well given how many times we've seen "I need Rubbernecker's Spook-tacular paper!" out there, we are guessing we were on track!
Today Jamie has created an adorable quick and easy Halloween card using NO stamping! For Jamie, that's unusual but she says she really wanted to use this paper and she's shown it off beautifully. Let's take a closer look.
Jamie started by using the die with the circular detail holes from our Borders #3 to cut the bottom of a card sized panel of one of the sheets from our Spook-Tacular Paper Pad, a scrap of black card stock and a scrap of purple card stock. She layered these together with the black piece peeking out from under the patterned paper and then the purple under the black. This is a super easy way to build a detailed edge on any element.
Then Jamie took a white piece of card panel sized card stock and splattered it with some gray Color Fuse Ink from Set #12. When it was dry, she adhered her layered component over it. She added that assembly over a layer of black card stock and then popped the whole "stack" onto a purple card base.

Using paper snips, Jamie cut out the words "Halloween" and "Boo"from her leftover paper as well as fussy cut some of the little elements from the scraps to save for a future project. Jamie layered "Halloween" onto black and purple card stock and added it to her card with some dimensional adhesive.
Now she used our Jack-O-Lanterns die to cut some orange, green and black scraps and made a couple of cute accents, adhering them on the card in the lower right corner. She then adhered her "Boo", added a few black Nuvo Drops and Crystal Stickles and this card was ready to send as a calorie free sweet treat to someone special.
Here's what you will want to have on hand to make this card: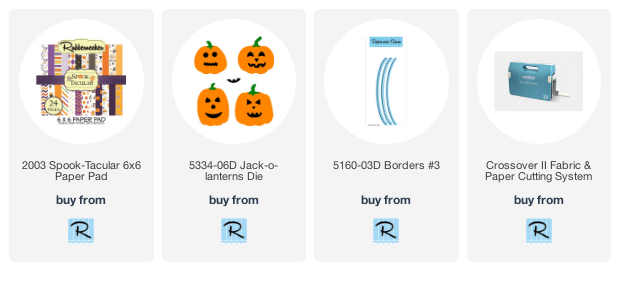 When you see Rubbernecker's Spook-tacular paper mentioned out there on the interwebs, remember this card! Quick, cute and easy and a perfect way to send a note to your favorite trick-or-treater of any age!