This Santa's workshop card is a perfect complement to all the other Santa Claus Christmas cards we can make!
Today Jean has made for us a Santa's workshop card that you just KNOW has all kind of magical goodness happening behind these doors. Letting some of our dies do almost all the work, this card is really fun to put together and it's a nice alternative to many of the other typical Santa Claus cards you see. Let's get the details of the making of this project so you can see how easy it is and decide if this is one you'd like to add to your 2022 handmade Christmas card lineup!
Start by cutting light blue card stock to your desired card panel size. Stamp your choice of sentiment – Jean chose one from our Christmas Phrases Large/Small – in the upper left corner to leave plenty of room for the workshop.
Cut a strip of white glitter card stock for your snowy ground and adhere to the bottom of the blue panel. Cut our Picket Fence twice from white card stock and adhere over the snow, spanning the card front.
Now use our Shed and Shed Add On Spring dies to cut your parts and pieces from different colored card stock. Jean used white, black, gray wood grain, dark gray and two shades of red. Assemble your workshop using liquid glue so you have a little time to adjust your pieces before they really stick.
Now use our Santa's Sleigh die to cut red foil and silver foil card stock and assemble.

For all of the fun accessories, cut a scrap of green glitter card stock with one of the trees from our Evergreen Tree die set. Use scraps of silver foil, red and green card stock to cut Santa's bag and some gifts using our Santa with presents die set. Use our Fire Place die set to cut some stockings, our Dog House die to cut that cute little sign and some lights from scraps of bright yellow glitter card stock using our Tiny Ornaments die. Assemble all the adorable little details.
Now lay out your elements on your card panel and decide where you want everything to go. Adhere things down using a mix of tape and dimensional adhesive to give your scene a little depth and dimension.

When you are all done building your scene, pop the panel on a card base and it's ready to go!
So cute! Here are the things you will want to pull out of your stash or add to your cart to make this sweet project: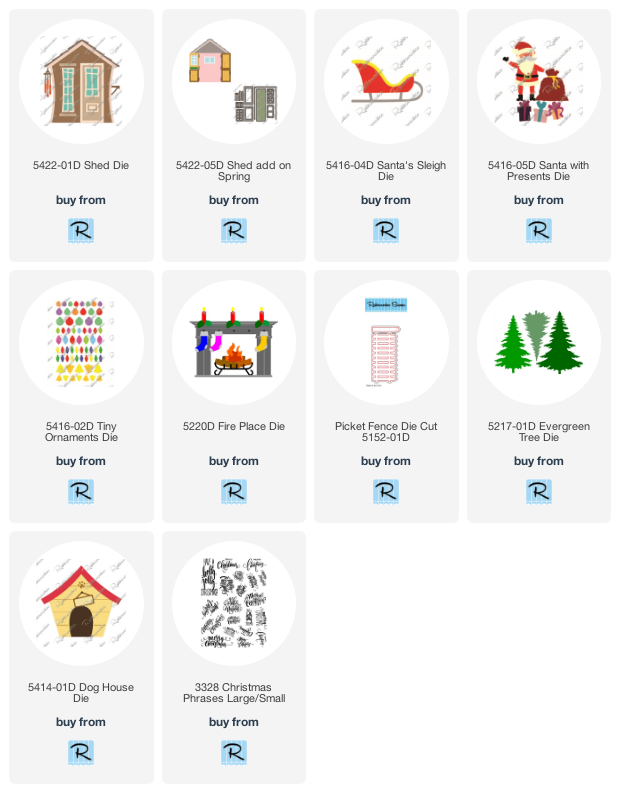 Today's Santa's workshop card is for sure a cute idea and we'd love to hear or see how YOU would make this card!