This absolutely beautiful white and gold Christmas tree card puts a modern spin on a traditional theme!
When we first saw this white and gold Christmas tree card we just couldn't get over how incredibly festive this card is! The brilliant gold adds that rich element and setting it against almost all white lets all that fabulous texture come through. Carol created this for us and she's sharing all her scoop. Shall we?
Start with some patterned paper for the background. Carol says "Get out some of your favorite hoarded (yes, I hoard my beautiful paper, but am trying to use it!) patterned paper to use for the background". You can stick to the gold and white theme or change things up and use what you love. No matter what you choose your card will be a knockout!
Die cut your pick of paper with the largest die from our Slimline Nested Stitch set. Adhere this to a card base and set aside while you make that glorious tree.
Now make your tree. Use our Slimline Christmas tree and cut all the pieces from white card stock. Then using the stars strip from our Stars/Wavy Background Strip stamp set, stamp your tree pieces with VersaMark and heat emboss with gold sparkle embossing powder. PRO TIP: Heat this embossing powder from BELOW to avoid any of the glitter blowing off before the powder melts enough to create adhesion.
Dab the tree topping star directly onto your VersaMark pad and heat emboss with the same gold glitter powder. PRO TIP: To add a heavier, thicker layer of this beautiful effect, after heating immediately press the star into the powder again before it has a change to cool and heat set again.
For just a touch of an organic feel, cut the tree trunk from some wood grain card stock and blend a little Pecan Color Fuse Ink from Set #3 over it to bring out the details and add some dimension.
Use your fingers to gently shape each tree piece into a slightly curved shape to bring the centers up. Also gently curl the bottom edges of each layer up to enhance that dimensional look.
Adhere these layers together by adding a line of liquid glue just at the top edge of each tree layer, letting each layer set for a few seconds to make sure nothing accidentally shifts. When the assembly is dry, add a double layer of dimensional adhesive down the center of the back of the tree.
Adhere the tree to the card front closer to the top. If desired, tuck glue dots or pieces of tape under the tips of the branches to help your tree hold its lovely round shape.
Next, stamp your sentiment – Carol chose one from Christmas Cheer – with black ink onto a scrap of white card stock and trim into a close rectangle. Use a gold sparkle gel pen to add accents to the teeny lights decorating the words.
Use the same gold pen and add random dots onto the Christmas tree. Carol says, "I love the extra details this gives to the beautiful Star stamp!" You can really see the impact these dots have in this photo.
Adhere your sentiment below the tree with dimensional adhesive and make sure you admire your gorgeous card!
Here's what you will want to use to replicate this card at home: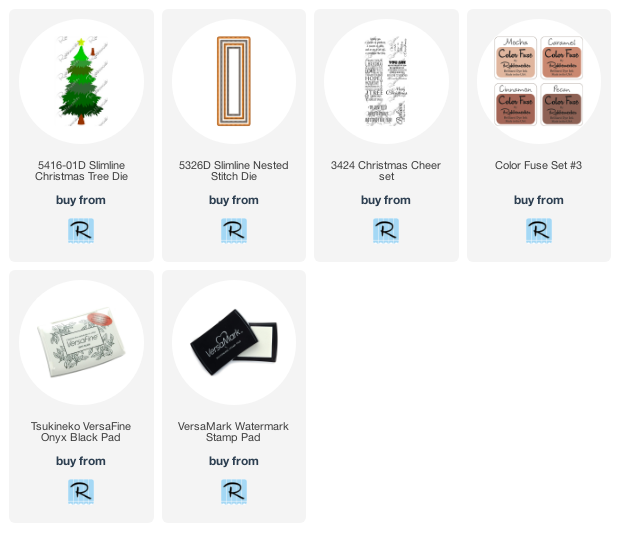 We adore traditional Christmas tree cards and this white and gold Christmas tree card is the perfect addition to all the Christmas tree cards that are in our holiday card lineup!