If you are planning to make some side step Christmas cards, you have to check out this idea!
Side step Christmas cards are a fun way to create a whole scene with loads of details and today Lisa is showing how to start with a pre-cut base to save a TON of time and effort! You can put all your creative energy into the FUN stuff and this card shows that off! Let's check out the making of this project with Lisa.
As we mentioned, Lisa started with one of the pre-cut card bases from The Paper Cut that we carry in the shop to make getting your hands on them super easy. These wonderfully well made card bases come in a variety of styles and for these outer starir step cards you get ten bases for under a dollar each. PRO TIP: before you start creating a project using any of the card bases we carry, we recommend you measure each section and create little templates for yourself with the measurements right on them. This will save you even more time when you make other versions of cards using these handy pre-cut bases!
Lisa also recommends folding one base into the shape it will be when completed so you can really visualize where each piece will be going to build your scene. Lisa picked white glittery snowy hills to help Santa glide along in his sleigh while being watched by some woodland creatures.
Lisa stamped all the images from our Santa Post Card set, colored them in with her Copics and cut them out with the coordinating dies. She also did the same with all the images in our Wintery Friends set; even though she knew she wasn't going to use them ALL, she figured she'd keep the leftovers for another project. This is a great timesaver!
For the images that didn't need to be colored, Lisa stamped them with Cedar and Crimson Color Fuse inks which is one of her favorite Christmas card color combos.
Now, using her templates, Lisa cut some green card stock to fit the large flat panel. She stamped our Snowflake Frame over it with Versamark, lining up one corner, and then heat embossed with white powder. She adhered this to the card base with some adhesive tape.
Then Lisa cut some trees from the same green card stock using our Evergreen Tree die and our Pine Tree Forest die. She laid them down in a box about to be recycled and mixed some white acrylic paint with a little water and using a paintbrush, splattered them all with "snow".
Next, Lisa cut some white glitter paper with our Stitched Hills dies and our Tabbed Mountain dies to create her snowy hills. PRO TIP: you can always "seam" pieces together behind trees and critters so don't worry about combining lengths to use up your scraps!
Now it was time to assemble! Lisa trimmed and added her glittery snow to each of the steps and then arranged her trees to form a little wooded area with a clearing for Santa to come sledding down the hills. She adhered them all with a mixture of tape and dimensional adhesive for lots of fun depth and texture. She then added Santa at the top of the hills and her little audience at the bottom, again with varying thicknesses of adhesive. She added her greetings with foam tape and all that was left were a few clear sequins for more shine and this card was ready to go!
Here are the items you will want to snag to make these super cute cards: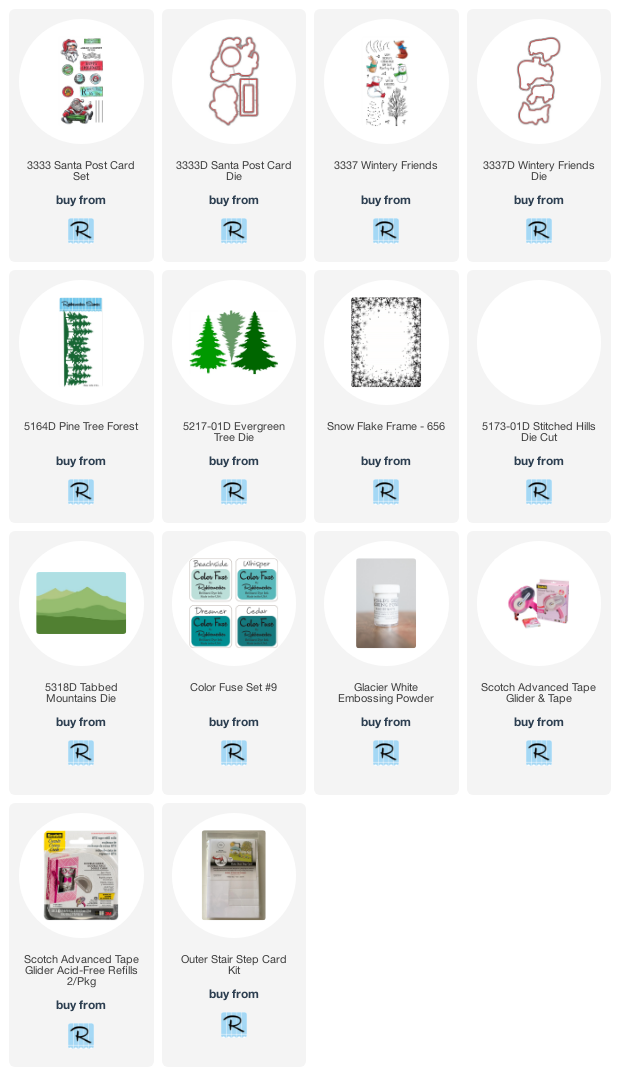 You can see that side step Christmas cards really aren't as complicate as they look when you use a pre-cut base to get started. And you can add so many fun details that they are truly showstoppers. Try some out – you will be hooked!