These Christmas gnomes are extra "sweet" against their candy swirl background!
Oooh – today we have a SUPER cute card featuring a couple of Christmas gnomes set upon a panel Annie created that looks just like a big ol' batch of Starlight peppermints! What a CUTE combo! Let's try making one!
First, stamp a couple of the fanciful fellas from our Garden Gnomes set onto white card stock with black Copic-friendly ink and color them in, cutting them out with the coordinating dies when done. Let them chat while you work on the other pieces.
Now trim a piece of white card stock to card panel size (Annie cut hers to 4 ⅛ by 5 ⅜) so you leave just a whisker of color around it when this panel is layered. Take our new Swirls Stencil and secure it over this panel. PRO TIP: grab that roll of washi tape you didn't love and use it up! Using a blending brush, blend Crimson Color Fuse ink over the stencil to create your peppermint panel. PRO TIP: since you will be covering up most of the center, concentrate your color on the edges, fading out toward the middle to save time and ink.
Next, cut a piece of white card stock with the largest die from our Nested Scallop with Holes set and, using Basil Color Fuse ink, stamp the sentiment from our Holly Circle Gnome Sentiment set in the upper right hand corner.
Using our Holly #1 die, cut some leaves from green card stock scraps and, if you don't intend on using red embellishments for the berries, some of those from a scrap of red card stock. Add some dimension to the holly leaves by adding a stem line and some shaping. PRO TIP: hold the holly leaf in your tweezers and bend the sides of the leaves up along the edge.
Cut a piece of green card stock the same color as the holly leaves to card size and layer the "peppermint" panel over it adhering the two together with tape runner. Then adhere that to your card base. Adhere the die cut and stamped white panel to the center with some foam tape. Add your gnomes to the lower left corner with more dimensional adhesive and then arrange your holly in the two opposite corners, adhering with liquid glue as you get them in place. Now, if you are using red embellishments for your berries, go ahead and add them and then step back and admire this adorable card!
Here are the items you will want to pull out of your stash or add to your cart to make these crazy cute cards: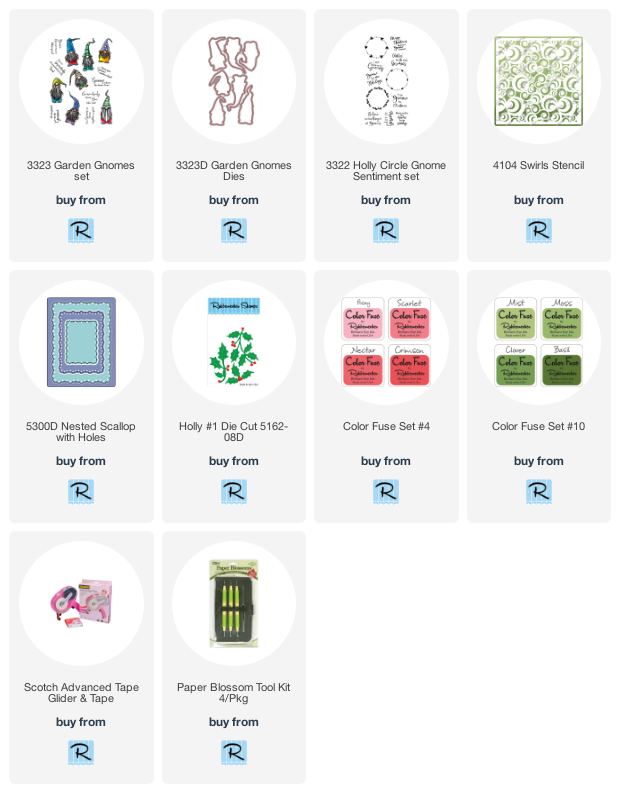 Gnomes are a fun theme because they are adorable, are ageless and can work with any theme. That said, we think these Christmas gnomes and the "candy" background go together like cocoa and marshmallows!