How FUN is this snowman mini slimline card?
There are lots of places right now that are getting tons of snow and what better way to make that fun than with this super cute snowman mini slimline card? This card is from one of our new Design Team members, Jean Manis, and we are delighted to share her talents and creative genius with you! Like the rest of our generous Design Team members, Jean shares her how-tos with all of us so we can all try making their fabulous projects. Let's take a look!
First, Jean cut a piece of patterned paper with the largest die in our new Mini Slimline Nested With Stitch set. PRO TIP: This style of card is a great way to use up patterned paper that might have just been too busy or didn't work for other projects because it shows just around the edges. Remember this idea when you have patterned paper that you aren't sure how you can work into a project.
Then Jean cut a piece of blue card stock to 6″ X 3″ and cut it with our MSLI (Mini Slimline Insert) Circles Stitch die in the center. Jean used a few little pieces of washi tape to make sure the die stayed centered on the card stock as it was rolling through her die cut machine. Now she trimmed a ¼" from each side – she'd cut it on the even inch mark to start to give herself some wiggle room for centering the die. Smart trick!
For her sentiment, Jean stamped her greeting from our Snowmen with Presents stamp set in Versamark on a scrap of dark blue card stock and heat embossed it with white powder. She trimmed this scrap down to fit behind the center circle and adhered it to the back of the circle window die cut.
Now for some pretty contrast, Jean cut a piece of pink card stock to 6″ X 2 ½" and added that over the sentiment piece onto the back of the same die cut panel. She now adhered that whole assembly to a piece of white card stock cut to 6″ X 2 ¾" and then adhered that to her patterned paper, setting it about ¼" from the left edge.

Now Jean used our Winter Snowmen die to cut various scraps of card stock and built her two funny little fellows, adhering the parts and pieces together with liquid glue. When they were finished, she positioned them on her card, tucking them into the bottoms of the die cut circles to make them appear as if they were popping out in excitement to say Hi! She then popped the whole thing onto a white mini slimline card base and it was ready to cheer someone up!
Here are the items Jean used today: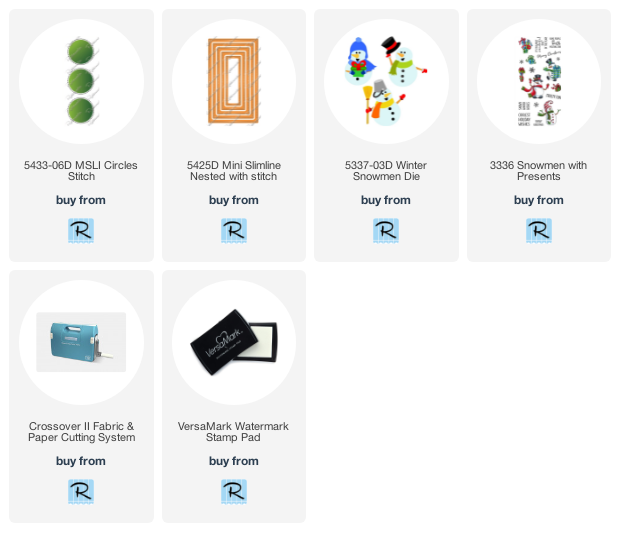 We love all the visual movement and exuberance this snowman mini slimline card offers and know that if people HATE the the snow, this will make them smile and if they LOVE the snow, they will celebrate right along with these sweet little snowmen!