Learn the basics of using a stamp mask to combine images easily!
If you've never used a stamp mask before today's post from Allison offers an excellent illustration of how this super easy to do technique can be a game changer. There are lots of times when we want to place objects on our projects in a way that make them look like they are grouped so some are in front of others. And we don't always want to take the time to individually create them just to cover some of them up! Using a stamp mask gives you an easy way to do this with less waste and in less time.
Let's take a look at how to do this! To place an object in front of another in the stamping world, we want to start with the most forward element, in this case, the large flower. Stamp that image onto masking paper or, if you don't have or want to get any, a Post-It Note works great too! You want something that has a little tack to it so when you stamp over it, it doesn't shift. Now, cut that mask out as close to the stamped line as you can get without going into it. PRO TIP: Once you've made a mask for a stamped image, save it in your stamp container so you can use it over and over!
Now, stamp that image onto whatever you are going to use on your project, here a piece of white card stock.
Now take your mask and line it up over your stamped image, pressing down where you have the sticky spot to make sure it stays put. Take the image you want to make look like it is BEHIND this most forward element and stamp over the mask where you want that image to appear.
When you remove the mask – VOILA! – the image you just stamped will appear to be set behind the first one! This is because anything you stamped on the mask, naturally, will not overstamp the first image. So all the "hidden" details now appear to be behind the first image. You can do this with just about any stampable image! (And for those of you for whom this is old news, just think back to the first time you did this and how amazed you were. There's a new stamper born every minute and they are high fiving themselves right now like you did!)
You can build entire bouquets, line up little critters, arrange all kinds of elements – the possibilities of what you can do with a stamp mask are infinite!
Allison colored her flowers in with Copics and then fussy cut them and set them aside.
She then took her stencil and chose a color of Color Fuse Ink that coordinated with her flowers and buffed some of that color onto a panel of white card stock.
When she was happy with her piece, she cut it out with one of our Nested Rectangle with Pierce dies.
She attached that panel to her card front, added her flowers some leaves to the card with foam tape and then added her sentiment, stamped in white on black for some graphic contrast, also with foam tape.
So pretty! Here's what Allie used today: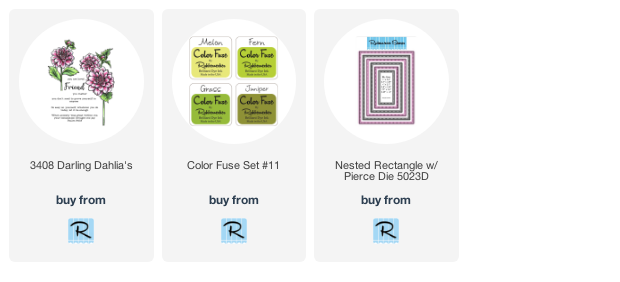 Who knew something as simple as a stamp mask could create such a beautiful illusion of depth? Ok, some people, but if you are new to this, you can see how this simple technique adds tons of creative opportunities to your crafting. Try it out – you will be hooked!