Such pretty details from stamped and stenciled flowers – and so easy!
Allie made this card for us using new stamped and stenciled flowers and popped them over a stenciled background and the combination is just so pretty! We are watching these new layered flower stencil sets with coordinating stamp sets FLY out the door and when you see cards like this one, you can see why they are becoming so popular.
Allie promised that this card is not difficult to make and if you love creating looks that have so much rich dimension from color, you will love making this project. Let's get all the scoop!
Start by cutting a piece of white card stock to card panel size. Using our Bold Rose Stencil set, apply ink with your favorite blending tool to make that beautiful background. Allie used Mango, Lemon and Custard Color Fuse Inks from Set #1 for the flowers and Melon Fern and Grass Color Fuse Inks from Set #11 for the leaves. PRO TIP: Applying the color "unevenly" – meaning letting some areas be all the lightest shade and other areas a blend of two or all three shades – creates lots of dimension and the illusion of light moving over the surface.
When you've finished coloring this panel, use the largest die from our Nested Loops set to cut it out.
Now, using our new Radiance In Bloom Stencil set, use the same colors of Color Fuse Ink to stencil the layers of the flowers and leaves. When those are all done, fussy cut them out.
Layer your cut out flowers over your stenciled panel and when you have a design you like, start adhering them with dimensional adhesive to build that beautiful, rich depth.
Stamp your sentiment onto a scrap of white card stock in black ink and trim it down into a close rectangle. Pop it over the bottom part of your card with more dimensional adhesive. Add a sweet little bow of baker's twine and a neutral shade button below the center of the sentiment. A few little Nuvo drops in a coordinating color and these sunny card is ready to surprise a lucky recipient.
Here are the items from our store that Allie used today: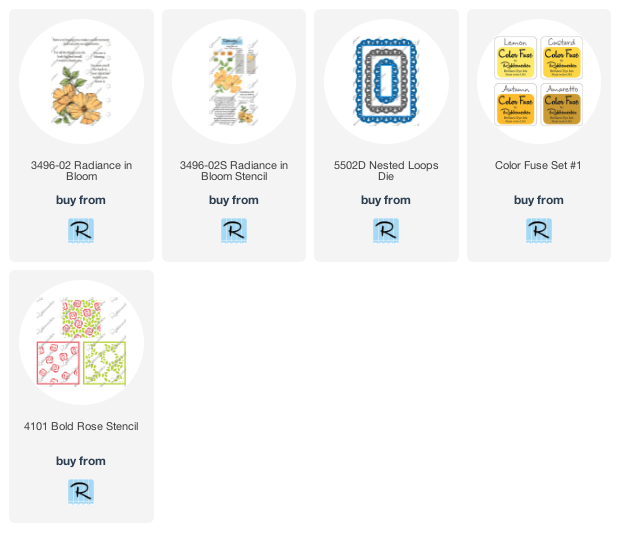 These new stamped and stenciled flower sets are such an easy and pretty way to create flowers that are just so delightful. We sure hope you join so many of your stamping community and try one out for yourself!