Combine heat embossing with layered stencils for truly eye popping effects!
We've talked a little about our new layered flower stencils giving you lots of new and fun ways to add color to your projects. Today Allie is sharing her gorgeous card that she made by combining heat embossing with layered stencils to add a fresh artistic look to her stamped flowers. She's spelling it all out for us to give it a try so let's go!
Start by stamping the flowers from our Eternal Friendship stamp set with black ink onto a card layer sixed of white card stock. Using Serene, Sapphire and Sienna Color Fuse Inks from Set #8, stencil the colors over your image using the handy free guide in our Eternal Friendship Stencil set. PRO TIP: Always clean off your stencils as soon as you are done using them to keep them pristine for every use. Color in the stem and leaves with a marker.
Choose one of the color layers you want to highlight and place the appropriate stencil over your colored image. Apply Versamark (or your favorite embossing ink) through the stencil over the colored area. PRO TIP: If your pad is juicy enough, you can just rub it right over the stencil. If not, use an applicator as you would any other ink.
Once you've applied the embossing ink over the areas you want to highlight, remove the stencil and heat emboss your pick of powder over the areas. Allie chose a gorgeous, sparkly glitter that lets her beautiful blue show through.
In some of the open space on your stamped and inked panel, stamp your sentiment with Versamark and heat emboss with your choice of powder. This addition of a little dimension from the heat embossing helps visually "balance" the texture and light reflection from the heat embossing in the flowers.
Using our Inside Scallop Nested Dies, cut white card stock with the two largest dies. Adhere the largest die cut to a white card base.
Trim your stamped panel to fit behind the other die cut frame and adhere them together. Wrap some coordinating baker's twine around the card a few times and tie it off with a bow. Add a little element if you like as Allie did here with the little button.
Add your stamped panel to your card base with dimensional adhesive and – Voila! – you're done!
If you want to make this same card, here's what Allie used today: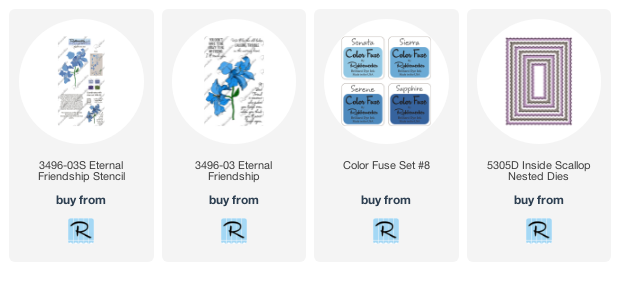 There are endless ways you can use our new floral layered stencils to create beautiful, captivating projects. Using heat embossing with layered stencils like ours gives you another fun and fabulous way to make these uniquely yours!