Stamped backgrounds will never be the same once you check out this easy and FUN tip!
We are particularly excited about this project because the always-talented Melinda is sharing a super easy and fun way to give your stamped backgrounds even more fabulous detail and design with nothing more than markers! Melinda said she wanted to create a fall card, but still use bright colors AND "definitely wanted to use the new Diamond Stitch cover die"! What is even more special about this project is that she also had the idea to revisit some projects that she created when first joining our design team and used this same background stamp to commemorate her start. How sweet!
Let's check out how Melinda created this special-in-so-many-ways card.
First, she stamped our Rose Wallpaper background stamp onto a piece of white card stock with Custard Color Fuse ink.
Next, Melinda looked to her markers for ones that would blend nicely with the yellow, choosing a green and a peach shade. She colored the centers of the roses with peach and then randomly, here and there, colored some leaves and stems with the green.
Now Melinda cut another piece of white card stock with our relatively new Diamond With Stitch cover die. Quick note – we are SO happy that you are all loving these new cover dies and do plan to add more once we can take a breath from creating all the other new goodies we have in the pipeline. Stay tuned! While she had her machine out, Melinda also cut some white card stock scraps with our Branches and Leaves die. She then adhered her Diamond cover onto her stamped background with some liquid glue.
To add some extra pop to her die cut elements, Melinda blended some Melon and Custard Color Fuse ink over the leaves.
And because she's Fancy Like Applebee's (have you heard that song?) Melinda brushed on a teeny bit of metallic gold ink.
For her sentiment, Melinda took one of the diamond shapes – save those scraps! – from the die cut and stamped her pick from our Thanks set onto it in black ink. She arranged her ink blended foliage around the little diamond and when it was just so, adhered them with little dabs of liquid glue. She added a piece of foam tape to the back and using one of our all time favorite PRO TIPS, added a little liquid glue to the sticky part of the foam to give her some time to get it situated perfectly in the lower left of the card.
This card would look simply GORGEOUS in any color combination so if yellow isn't your thing, be sure to browse the other magnificently shaded Color Fuse Ink sets and add your favorite to your order. Here's what you will want to have out to make this card: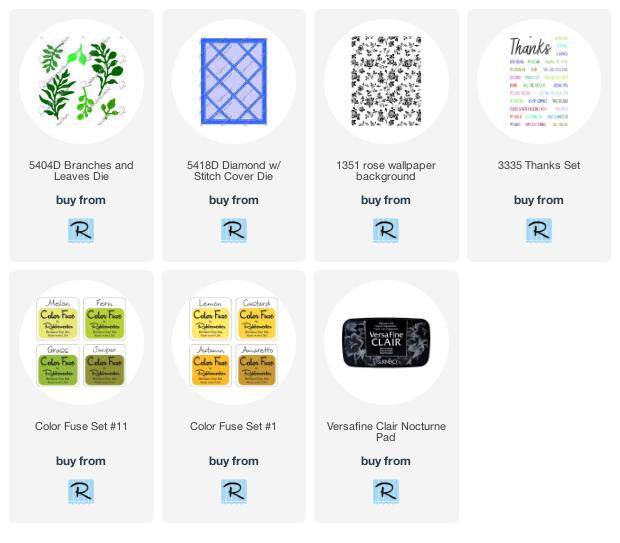 We have to admit that we totally ran to our collection of stamps to see what other stamped backgrounds could get Melinda-fied using this fun way to dress them up. What about you? Which one will you try first?