This awesome Thank You Z fold box card is LOADED with fun details!
We love cards that are full of surprises and this Thank You z fold box card is a great example! Lisa has outdone herself with all her extra touches and we cannot wait to see how she did all of them. Let's dive in!
Lisa started with one of the cards from the Z Fold Box Card Kit from The Paper Cut. These are so handy to have for these cards that are made from lots of different "moving parts". Sure you can make them on your own but having kits for these kinds of cards lets you spend your creative time doing the "fun stuff".
To get started, Lisa used our Clouds Stencil and Sonata Color Fuse Ink from Set #8 to add some clouds to the card base.
Lisa had some panels of paper that she had created with her gel press for another project that had lots of greens and browns in them and thought they set the perfect scene for the bright fall foliage she wanted to add. She trimmed the front piece of the card down a little and then used our Slimline Roll Hills die to cut her custom paper to add her grounding element.
Lisa trimmed each section to fit inside the card panels to leave a 1⁄16″ border of white around the bottom and folded edges.
Continuing with her hills, Lisa cut more pieces of her custom paper with the hills dies and added them to the box card layers. When all the supporting pieces were covered, she put it all together following the instructions in the kit using her adhesive tape.
Lisa pulled some more of her own gel press made paper out, this time in orange tones, and cut them with our Spring Trees die. She used a brown Copic marker to color the trunks.
For variety, Lisa cut some more of her gel paper in green with our Pine Forest die and Evergreen Tree die set. She then laid the card base flat and then arranged all her trees until she had a layout she liked. She adhered them with varying thicknesses of dimensional adhesive, remembering that the card still needed to fold up!
To create that lovely tree lined road look that the box card structure allowed, Lisa, trimmed some clear acetate into small trips and glued some of the trees to them. Then she glued the bottoms of the acetate onto the box card section of the card along the inner and outer edges so they added to that fun dimensional scene.
For her charming little truck, Lisa chose paper that had that vintage vehicle vibe, used our Old Truck Front die set to cut it up and used scraps of white to cut the detail pieces she wanted to color, which she did with her markers. Note the little "XOXO" on the license plate! She put these all together and set it aside.
Moving on to the occupants, Lisa stamped, die cut and colored the parts of her fella from our Garden Gnomes set and adhered him on the back of the truck die cut assembly so he was looking out through the wind shield. She decided he needed a canine companion so she cut a piece of white card stock with our newish Set of Dogs die, colored him up with her Copics and popped him into the passenger side. Now she added her truck to the front of her card.
All she had left was her sentiments. The first she stamped from our Brighten Your Day set, trimmed it down closely and added it to the front of the card with a couple of foam squares. For the one on the inside of the card – which we think is such a sweet touch – she stamped her choices from our Spring Meadows set, fussy cut and trimmed them up and added them to the back inside panel.
As a very last touch, Lisa cut some card stock scraps with our Tiny Leaves die and added them around the base of the truck.
Isn't this card just SO fun? What an impressive way to say Thank You to someone special! Here are all the goodies Lisa used today to make this lavish card: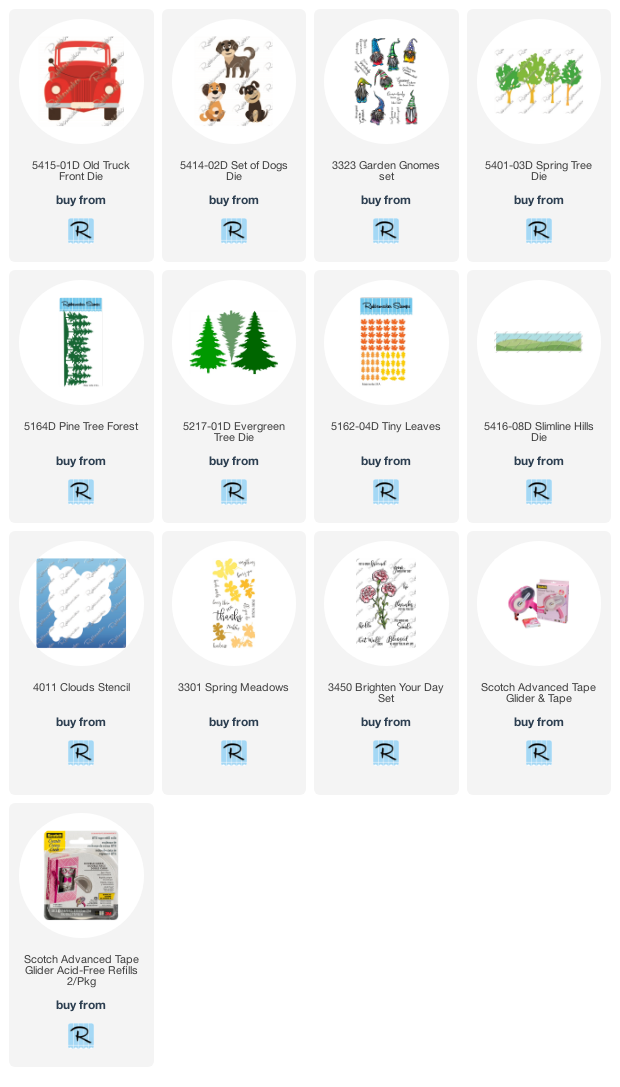 While we know this project is one of those over-the-top supercards, when you start with a kit, use some basic elements to create your design and just have fun with your idea, a Thank You z fold box card like this is within reach of every stamper! Give it a try!