You are going to LOVE this idea for this gorgeous, super fast and easy handmade card!
You all know we love cards that can be changed up in lots of ways. Changing out colors, sentiments, shapes, orientation, textures – any card that gives us tons of ways to make it and still be a knockout really gets us excited. Today's super fast and easy handmade card from Melinda does just that! Melinda loves to make clean and simple cards and this one, while it fits the bill, is so beautiful and has so much visual interest, we just know we will be using this design over and over.
Melinda started by cutting a piece of white card stock with our Open Greenery die four times. Melinda says she loves the design of this die and is adding it to her permanent rotation. We love that you love it, Melinda! She also cut a piece of white card stock with one of the dies in our Nested Rectangle W/ Pierce set.
Melinda then ink blended some Lemon Color Fuse Ink from Set #1 over the bottom (from the stem end) 2/3 of the leafy piece. She then blended Melon Color Fuse Ink from Set #11 over the bottom third. And then starting at the tips of the leaves, Melinda added Bubblegum Color Fuse Ink from Set #5 over the top third just to the edge of the Lemon. PRO TIP: If your die cut wants to do the wiggle while you are inking, use a little low tack tape on the back or some repositionable adhesive to hold it in place. Your finger tips will thank you!

Melinda adhered her three extra white die cuts together with some liquid glue and then the inked piece on top. Then using our News Paper background stamp, she inked it up with some gray ink and stamped it onto the rectangle die cut. NOTE: Melinda says there was some light blue ink left on the stamp that she didn't see until after she'd stamped. She ended up loving the look so left it. Happy accidents are the best!
Melinda adhered this die cut panel to a card base using some dimensional foam adhesive. She then added her ink blended die cut over it at an angle from the top right corner. NOTE: Here's where Melinda experienced her second happy accident; a piece of the die cut had fallen out and she decided that she liked it. There is no "perfect" in card making!
For a little shine (that you can't really see in these photos), Melinda applied some Glossy Accents to the little berries. She stamped her sentiment from our Sketch Rose set – Melinda says she loves these sentiments – on a scrap of white card stock. She trimmed it down closely and then used a little stack of scrap paper and some foam tape to be able to adhere this to both the side of her rectangle die cut and the card base.
SO pretty! And so incredibly simple and fast! You can do this with any colors you love, any die cut shape you love and any background stamp that adds that fun depth and visual texture.
Here's what Melinda used to make this dreamy card: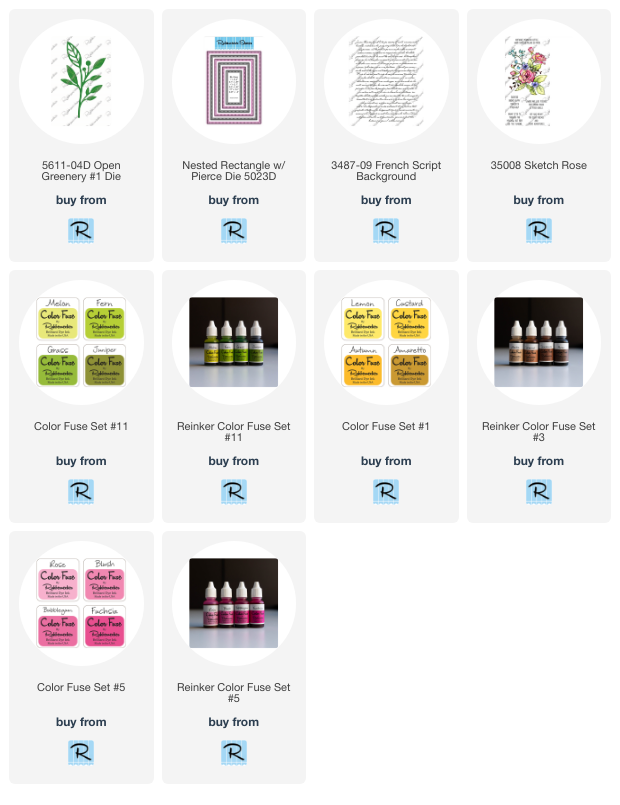 Is this super fast and easy handmade card design just so wonderful? We can think of a hundred ways to use this design and hope it has your creative brain popping along like ours is!