This idea for cute cards made from scraps is FABULOUS!
If you are a paper crafter, chances are you are a paper hoarder judicious scrap saver. We HATE throwing away scraps, right? And then we are always looking for ideas for cute cards made from scraps.

Well, THIS card from Ricky is scrap-using-up-perfection! This is such a fun and cheerful card and can be used for so many occasions. We love cards that are adaptable and we can see making a big batch of these to add sentiments to later when we have a card sending need.
Let's get Ricky's details and get to the making!
Start by collecting your rainbow scraps. Then using the right facing boot from your Grab the Rain Boots Die, cut out your rainbow colors. Use the detail die to cut black cards stock scraps, too.
Now use our Mini Slimline Cover #2 die to cut a piece of white card stock and adhere it to a piece of black card stock for some depth.
Go back to your scrap stash and pick two shades of green, some yellow and some orange scraps. Use our Daffodils Die set and cut out the stems, flowers and centers. Adhere them together with little dabs of liquid glue.
Adhere one flower to the back of each boot, mixing the stem colors and the angles of the flowers for lots of easy visual texture. Adhere the boots with some foam tape and adhere to your die cut panel. Now pop the panel on a card base and it's ready to go! PRO TIP: Use one of our long sentiments on a layer on the card or stamp one of our phrases inside when you have a card sending occasion.
Here are the things from our store that Ricky used today: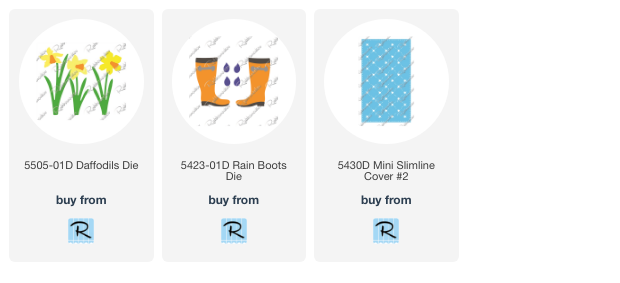 Ricky says "This card makes me happy because it is rainbow, but also makes me sad because rain boots are not often available in color for men! We need to change that pronto!" Well, we agree! And we are so glad that Ricky's love of color led him to share this design for cute cards made from scraps – it's a win-win!