Use this fun idea for bright stenciled cards on handmade cards for just about any occasion!
Today we are sharing this easy idea for cheery and bright stenciled cards that can be done in so many different color combinations and for so many different card sending reasons. Our Spinaround Flower Stencils are so easy to use that even if you feel like your stenciling game isn't where you want it to be, the designs will still look fabulous!
Let's get Jamie's details for the making so we can see just how easy this is!
Jamie started with a piece of white card stock and some pink ink. She placed the pointed petal Spinaround Flower Stencil over it and then applied that pink ink through it. She wiped off the stencil and then spun it 1/4 of the way around and added her next color. She repeated this stenciling, cleaning, spinning and stenciling until she'd added all four colors. If you want to see this in action, we've got a video here that shows it all off.

When she was done, Jamie cut this with a retired square stitch die – our Nested Square w/ Pierce die set would look amazing with this design! She layered this onto a piece of black card stock cut with the next largest die.
Next, Jamie stenciled several of the flowers onto a strip of white card stock with some green ink and when they were dry, lightly sponged the whole piece with the same color ink for a rich tone on tone look. She then layered that, too, onto a strip of black card stock cut to offer a narrow border on the top and bottom.
For her sentiment, Jamie cut the script portion of our Hello Script w/ Shadow die set from white card stock and the shadow portion from black. She used the same green and blue inks and sponged the blue over the bottom half of the script and the green over the top.
Now she assembled her card. Jamie adhered the script to the shadow with some liquid glue. She adhered her stenciled strip over a white card base about halfway down the card. Using some dimensional adhesive, she added her stenciled square over the strop and then popped her word onto the square, spilling over onto her strip with more very small pieces of dimensional foam tape. As a last touch, she added some little half pearls to the centers of her flowers.

Just look at how much detail she got with just that one stencil!
If you are wanting to try out a different, very easy take on stenciling, grab this set and play! Here's what Jamie used today: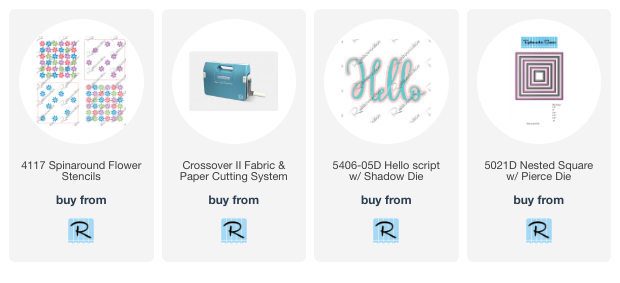 Even though this idea for these fun and bright stenciled cards is super easy to make, there are just enough interesting details to make this be one of those cards that looks like more than it took to make it!
We love having these ideas in our stash and hope it inspires you to "give it a spin". (We couldn't help ourselves!)