Today's idea to use up patterned paper scraps is quick and clever and looks so great!
Melinda made today's cards for us and we are here for the super fun way she shared for how to use up patterned paper scraps. We can see this fun trick being used lots of ways and love the variety and unexpected pop of visual texture from the patterns Melinda chose.

Melinda says she was inspired by her living in the mountains. She says "Lately my view is green trees and snowy mountains. My favorite season is spring and this view is why. I am also always looking for ways to use my patterned paper scraps. I am just loving the paper pads Rubbernecker has been coming out with and don't want to waste a single scrap!"
We are so glad she was inspired because now we are, too! Let's see her making process so we can apply it to our own ideas.

Melinda stared by tearing a scrap of card stock to create a sort of stencil to make the snowy background mountains. On a piece of card stock cut with the largest die in our Mini Slimline Nested with Stitch set, Melinda used some Sonata Color Fuse Ink from Set #8 to blend some ink over her torn card stock stencil. As she applied each edge, she moved her torn card stock down about a half and inch or so and at the same time shifted the torn card stock from side to side on each application to create that vista of snowy mountains.
Next Melinda cut a frame using our Mini Slimline Tabbed Scallop Stitch die set and then used the next size down to cut out the center, saving that piece with the dies for a future project. She eyeballed her die cut frame against her background to make sure everything lined up the way she wanted it to, trimming edges if necessary to get the alignment she wanted.

For her fantastic, fun patterned trees, Melinda chose pieces from our Festive Farmhouse and Harvest Time Paper Pads. She cut the lighter paper with our Pine Tree Forest die and the darker paper with our Evergreen Forest die.
To add a little extra detail, Melinda inked up our French Script stamp with Cinnamon Color Fuse Ink from Set #3 and stamped it over the lighter trees.
On the darker die cut trees, Melinda blended some coordinating Color Fuse Ink – in this instance, she used Basil from Set #10 -onto the edges for some dimension.
To create a look of depth, Melinda adhered one line of trees against one side and trimmed the edge. She adhered the other line of trees to the other side, allowing the two to cross in the middle.
Melinda adhered her die cut frame to the front of her panel with foam tape to raise up the frame for a touch of a shadowbox look.
She adhered her panel to a card base and added a quick little sentiment on a trimmed down strip. She used variations of these steps to make her second card, adding a scrap of vellum behind the sentiment for a little detail.
Here are the things Melinda used from our store: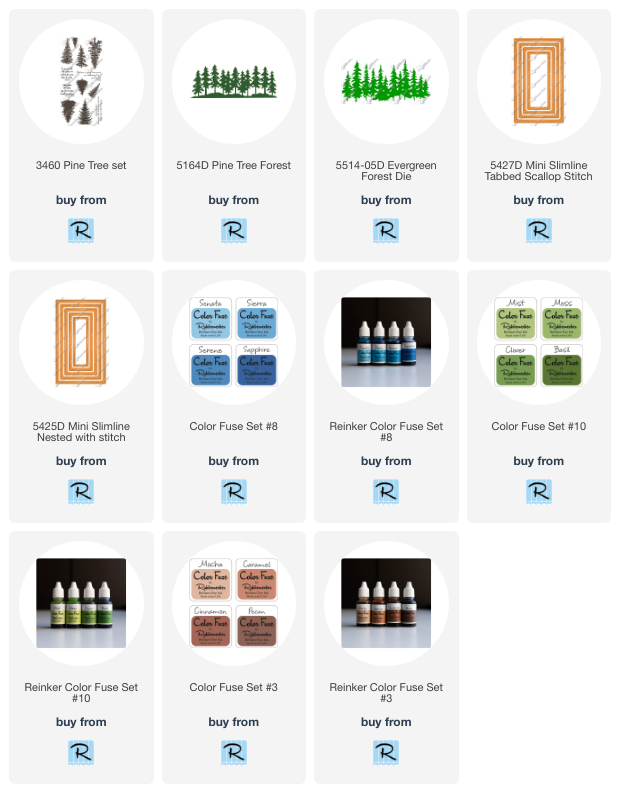 We think this is a fun and unique way to use up patterned paper scraps and have been eyeing our scrap stash with different dies in mind. How about you – what does this make you want to do with your own scrap stash?