If you are looking for watercolor card ideas, you are going to LOVE this one!
When we first saw this one of Melinda's watercolor card ideas it popped into our heads that it looks like a little piece of art! Melinda says she was inspired by spring in the air and we can totally feel it in this adorable project! Let's check out how she made it!
First, Melinda stamped the little chicks in Lemon Color Fuse ink. She then took one our circle dies, centered it over the chicks and then very lightly traced the inside of the die with a pencil. She then lightly drew a horizon line under their feet.
Now that she had her basic elements defined, she began her watercoloring. She started with the sky and edged along the horizon line using Ultramarine Blue and washed over the whole sky area, dabbing away some of the wet pigment to create the look of clouds. Then she filled in the grassy area with Phthalo Green mixed with some Ultramaine Blue and a touch of Orange to tone down the green.
Once the background areas were completely dry, Melinda colored in the chicks with Lemon Yellow and a touch of Orange for shading. She also added a few details with a light brown colored pencil to define the details and edges. Once the little fellas were dry too, Melinda cut the panel with the same Pierced Circle die.
Next, Melinda used the ink smooshing technique to make her pretty flowers and leaves. She dropped a few drops of Crimson, Orange and Lemon Yellow ink onto a glass or craft mat, spritzed with water and placed watercolor paper over and into the ink. You can repeat this as many times as you like to get the vibrancy you want. Melinda repeated this process for the leaves with Green and Ultramarine Blue liquid watercolros and added a sprinkle of Green pigment powder. When these pieces of watercolor paper were completely, dry, she cut the flowers and leaves with our Small Flowers #2 and Small Leaf Group dies and set them aside.
Now Melinda created her own wood grain patterned paper using Color Fuse Ink! She cut a piece of white card stock to 4″ X 5 1/4″ and scored on the long side randomly 1/4″ to 1/2″ apart. She then turned the card stock ninety degrees and score between the score lines here and there, creating an irregular "board" pattern. Using the four colors from Color Fuse Set #3, she swiped the cubes from short end to short end of the scored panel ("hill" side down, "valley" side up) starting with the lightest shade and going very light with the darkest. SO cool, right?
Melinda added the wood grain panel to her card base with Tape Runner and added her chickie circle with dimensional adhesive. She took her tiny flowers and leaves and arranged them on the circle and when she had them positioned just so, adhered them with liquid glue. All she had left were some teeny touches of Stickles or Nuvo drops to the centers of the flowers and she was finished with this adorable card!
Here are all the items Melinda used today: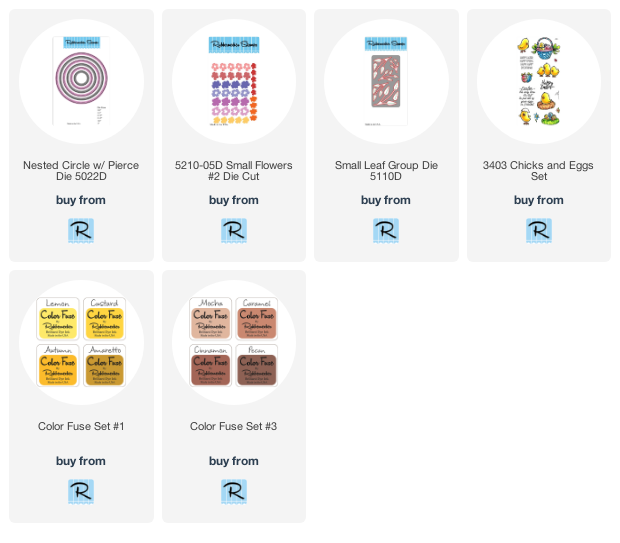 We love sharing fun watercolor card ideas and think this one is the perfect project for one of our rainy spring days – the rain is a good excuse to craft and this card is an excellent way to focus on spring being right around the corner!