Make a card for a special friend – like this sweet project!
We are always looking for an idea for a card for a special friend and today Renee has created one for use that is just so sweet and so perfect! Let's see how to make one along with her, shall we?
First, stamp your little foxy friend and her little pet mouse, color them in with your favorite coloring medium and cut them out with the coordinating dies.
Now make your background. Renee wanted the look of a freshly blossoming cherry tress so she used our Spring Blossom stamp and stamped her panel with Bubblegum and Pecan Color Fuse Ink for that fabulous spring glow. Then go here and grab one of our top tips and make yourself a cloud stencil and add some clouds over your little tree using Arctic Color Fuse Ink. When you have your beautiful sky just the way you want it, add your sentiment. Renee used one from Kittie Says Friends and stamped using her Misti so if she needed to go over it again, she could get it lined up perfectly.
For that beautifully textural grass, spritz a piece of card stock with green distress oxide ink for different shades and hues of green. Use one of our grass dies to cut it out and trim it to fit your panel. Cut your cherry tree panel with one of our frame dies – here Renee used our Nested Rectangle Small Stitch Die set – and then cut your grass strip with the same die for perfectly matched edges. Then set this off with a die cut layer of bold black card stock – Renee used our Nested Rectangle Scallop dies.
Cut some tiny flowers from pink card stock and add some enamel centers to pop onto the grass for some foreground dimension. Add that grass to the bottom of your panel with some foam tape. Add your little critters with more dimensional adhesive and you are ready to delight one of your best friends!
Here are the items Renee used to make this card – add any you need and you can get started!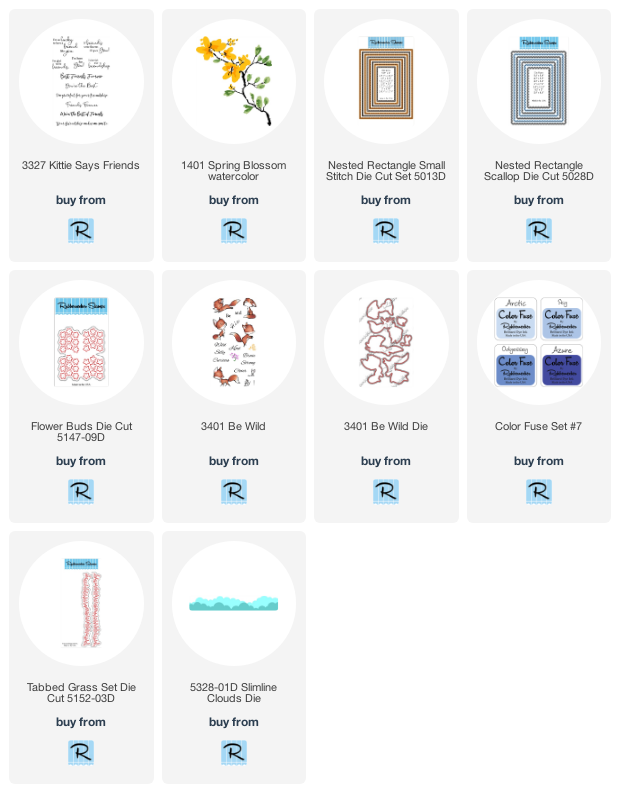 We think this truly defines what makes a card for a special friend and love that it can be created in so many different ways. Who do you know who would be tickled to receive a card like this from you? Send one!