Looking for dog stamps for card making? Check THESE out!
We don't brag often but we are pretty confident in saying that the set used today are the BEST dog stamps for card making! Why? Because it's a row of adorable, all different breed, all different sized doggos. Plus, and this is the most fun part, we made a stamp and die for both the front AND the back of the dogs so you can make cards like this one! Let's check it out!
Carol started by stamping the front and the back of our Dogs Front and Back set in black ink on white card stock and colored them all in with her Prismacolor pencils. She got a lovely blend using a blending stump and Gamsol which adds to that soft, fuzzy look her canine buddies are giving off. PRO TIP: When you are using this method to color in your stamps, start with your darker colors in the shadow areas and blend then add your color layers over and remember, you can always go back and add more color where you feel you need it.
When she had both the fronts and the backs all colored up, Carol cut out both strips with our coordinating dies.
Then Carol made that super fun card base. She made a side fold base and trimmed as shown, cutting down on the fold leaving about 2 3/4″ from the bottom intact and then cut across the front from the open side to the fold. This gave her a narrow flap to serve as the "ground" for her puppers.
Then Carol made her grass by cutting two strips of card stock with one of our Slimline Grass Border dies. Carol opted to cut white card stock and color them with markers. PRO TIP: Be sure, before trimming them to size, that you line them up back to back so your detail matches at the top of the front strip.
Carol also decorated her front strip with a green striped patterned paper which she cut to size and adhered with a tape runner on both the inside and outside of the front. Then she added her grass strips at the top and for a crisp finish, added two very narrow strips of black card stock (this is why we save our scraps!) over where the grass and the patterned paper met.
Then Carol added her two dog strips, adhering with liquid glue, making sure they were lined up perfectly.
Carol also made a cloud stencil using this idea and, using a blending brush, added clouds over the inside of her card with Arctic Color Fuse Ink. Then all that was left was to add sentiments from Kittie Says Friends and this card was ready to be on its way to Carol's favorite dog loving friend!
Here are the items from our store that you are going to want to have on hand to make these cards to celebrate our canine companions: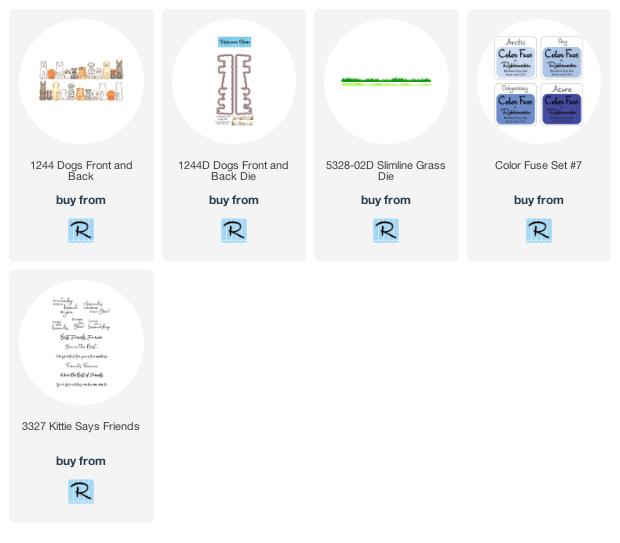 We just love these dog stamps for card making and now that you've seen them in action we think you will agree that they are perfect for all kinds of doggo cards!