Combine watercoloring and gold embossing and you have makings of a stunning Fall card!
Creating a pretty fall colored paper using watercoloring and gold embossing some of our leaf stamps over it create the most beautiful effect, not at all unlike the one Mother Nature put out for us every Fall. Today's card from Carol makes great use of her watercolored custom paper and the card is just so gorgeous and so easy! Like Carol says "Loose watercoloring is a no-stress style that anyone can achieve!".
Let's get her inside scoop!
Start by applying your anti-static powder to a piece of white card stock. Using our Splatter Leaves set, stamp your choice of these pretty images with VersaMark and heat emboss with gold powder. While you are at it, choose sentiment and stamp and emboss as you did your leaves.
Now choose several watercolors in autumn shades. Start your watercoloring by applying plain water with a paint brush to your leaf to get the card stock inside your outline damp. Note: For the best results, do each leaf one at a time.
Letting the water do all the work, add your watercolors to your leaf. With enough water, the paint will move and blend on it's own so add drops at at time if your surface isn't wet enough. Use about two to three of each of your chosen colors on each leaf.
Let your leaves dry and if you want to add more color, repeat this process until you love what you see. DO wait for each layer to dry so your colors don't completely blend and get muddy.
While you leaves are drying, take another piece of white card stock and add four "splotches" of water and then apply your watercolors. To gt the colors really moving, spritz the surface lightly until you have the effect you like
Use a heat tool to dry your layers of watercolor, repeating your process until you are happy. PRO TIP: Don't worry about the edges as the piece will be trimmed down and do NOT try to go for any semblance of "perfection". The whole point of this technique is to get that beautiful, irregular, mystical look. As a last step, if you like, give it a splatter with some gold metallic ink or watered down acrylic paint.
Here is what Carol's piece looked like after her layering of colors.
When the piece is totally dry, trim it into a 2″ x 4 ¼" strip and, of course, save any scraps! And now that your leaves are dry, cut them with our coordinating dies. While you are at it, die cut your sentiment with the appropriate sized die from our Nested Oval Small Stitch Die set. And then, run a card sized piece of white card stock through your machine with our Diamond Pierced Cover die.
Adhere the pierced piece to a card base, layer your watercolored strip over a piece o brushed gold card stock to allow a narrow border top and bottom and adhere that to your card.
Arrange your leaves and sentiment and when you have it just so, adhere everything to the card with varying thicknesses flat and dimensional adhesive. Add a rustic jute bow and a few gems and this easy but dazzling card is ready!
It's a knockout, isn't it? And the beauty of using this technique is A) it's super easy and B) it's totally unfussy! Here are the items from the store that Carol used today so you can grab them to make your own version of these divine cards: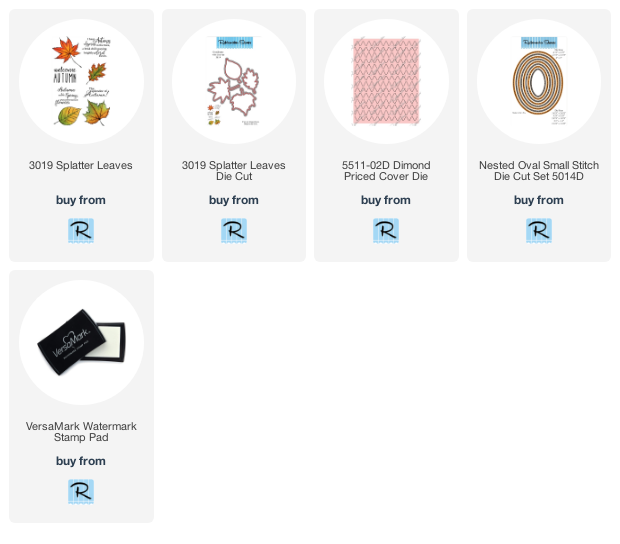 We sometimes forget that going back to the basics – like using watercoloring and gold embossing together – can yield spectacular results. Give this a try and see if it doesn't revive your creativity!