The answer to why add layers on cards is for easy impact – come get the details!
If you've ever made a card that is just so cute but you feel like it is missing that little something-something you might be experiencing the question of why add layers on cards. Adding layers in colors that compliment your design creates a sense of visual depth, allows your detail elements to be shown off and creates a beautiful cohesive look that makes the whole card come together.

Today Carol has created a card for us that uses just a few layers in different configurations that don't just look gorgeous but keep the eye moving, making this card one you don't really want to look away from. Let's get into her steps for the creation of this adorable card.
First, Carol stamped the image from our new Christmas Cheer Gnomes Set in Copic safe ink (or ink appropriate for your coloring medium.) Carol used a selection of red and green Copic markers and used those prominently in the design, only adding yellow and neutrals. PRO TIP: This is a good way enhance that cohesive look that makes this card a standout.

After coloring the image in, Carol cut it out with one of the dies from our Nested Square Stitch set. Now she added her first layer under that element. She chose black card stock to ground the focal element on the card and kept it to just a 1/8″ width to create that visual break without separating the element from the "flow" of the design.
Now Carol used the next size up in the Nested Square Stitch die set to cut a piece of red – hers was from our Ho Ho Ho 6 X 6 Paper Pad – and adhered her black matted focal image to it with some adhesive tape. PRO TIP: Adding some layers with dimensional adhesive emphasizes the look of depth and is especially effective with very dark and very light layers as it adds beautiful shadows.
Now Carol worked on her card base. Carol cut another piece of the same red from the Ho Ho Ho 6 X 6 Paper Pad to 4-¼" x 5-½" and adhered it to a white card base. Carol chose a pattern from our new Snowflake Fun Slimline Paper Pad that featured that classic red and green and placed it over a piece of card sized white card stock, covering about 1/3 of the panel. She used some low tack tape to hold the patterned paper in place on the card stock and then cut the two pieces at the same time with the largest die from our Nested Rectangle Small Stitch set. PRO TIP 1: Carol used the grid lines on her craft mat to make sure her pieces were lined up nice and straight. PRO TIP 2: Depending on the size of your die cutting machine's platform, you may need to trim your patterned paper before cutting. PRO TIP #: Using the same feature – in this case the stitching – on your layers adds to that gorgeous cohesiveness that makes the gnomes really stand out.
Carol now had two pieces that are perfectly lined up together. Carol says "FYI, the striped piece measures about 2-¾" x 5-½". This might help you determine how to place your own patterned paper.
To enhance the look of layers on her card, Carol adhered her patterned paper to the white panel and then using a scrap strip of the red card stock, she cut a 1/4″ strip. She adhered this along the right edge of her patterned paper, creating the look of an additional layer on the background. This will pop right out at you when you adhered your background to your card base, which Carol now did with her tape runner.
Carol stamped her sentiment onto a scrap of white card stock, trimmed it into a neat rectangle around the image and then used that same red again to mat that element with a narrow border. She added that with some foam adhesive for more depth. Note that Carol added this perfectly square to the design. While we love a jauntily placed sentiment, on this card, with all the beautiful squared off layers setting it in alignment adds to the pop.
Now, this is one of the reasons we adore our Design Team so much! They really teach us through their sharing of their thought processes and Carol did that here today. She says "Truth time here–I colored the sky of the image AFTER I finished the entire card! LOL! It just looked like it was missing something to me, and that's what it needed! Adding color to the sky eliminates most of the white and helps to focus the eye on the adorable gnomes. I used a white gel pen to add dots for snow over the entire image."

We don't know about you but it sure makes us feel better knowing that even our Professional Grade designers sometimes make design changes midway or at the end of a card making session. And this turned out SO adorable – we just love it!
If you want to make this charming card at home, here's what you will want to pop into your cart over at the store: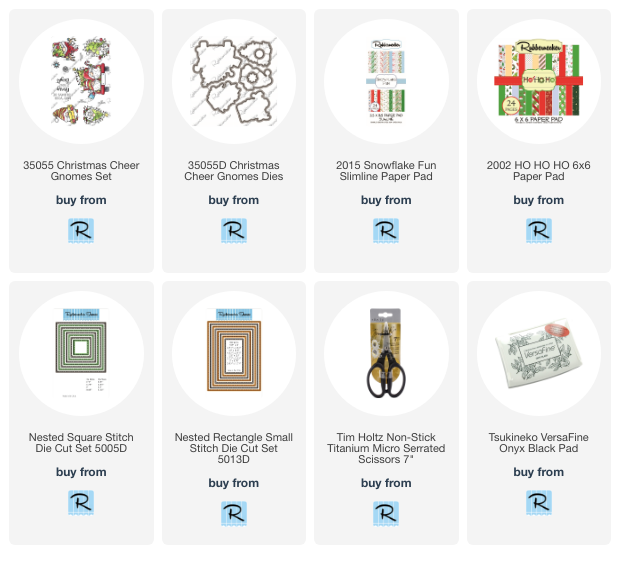 This card shows off the answer to why add layers on cards to perfection. It's not a lot of extra work, it adds tons of impact and it makes an otherwise relatively simple project look that much more interesting and exciting. If you ever finish a card and wonder what it might be missing, think layers and see what happens when you add a few!