Who says you can't use neon colors for Christmas cards – this one proves you CAN!
In yesterday's post, we learned that neon colors for Christmas cards are totally on trend this year and just in time, Sammi has this one for us. It is SO fun and bright and while totally unconventional in its color story, is loaded with adorable classic elements. We just love it and are happy to be able to share Sammi's directions here so you can play along.
Sammi wanted to make this a shaker card so she created her little frame by cutting white 120# card stock five times with our Slimline OPC Squares die and then glued four of them together in a stack. PRO TIP: Using this thicker card stock gives you great depth. Browse your stash for those thicker materials for this quick way to add a shaker element to a project.
Sammi cut a piece of patterned paper from our Snowflake Fun Slimline Paper Pad and and adhered her frame to the center.
She placed her shaker filler – in this case, color coordinated sequins – in the little windows. She then used liquid glue to adhere a piece of acetate cut to fit over the openings and then adhered her last die cut piece of white card stock over the whole assembly.
Now she stamped and colored two of the snowman, rabbit and bird from our new Laughing Snowman stamp set, colored them in with her Copics and cut them out with our new coordinating dies. Sammi says "When stamping, I always use a hybrid ink so I can color with my alcohol markers." Great tip! And here are the Copics Sammi used – thanks, Sammi!
Sammi then cut some pale lime green card stock with our Evergreen Trees die and ink blended them with Color Fuse Inks from Set #11 to add some dimension. She then added all her darling die cut details to her card, the trees with her tape runner and the characters with some foam adhesive for more dimension.
For her sentiment, Sammie really amped up with element with her bold and energetic neon shades. She started with this sentiment from that new Laughing Snowman set, which she says she just loves. So do we and apparently so do a lot of other people – this set is a top seller and we can see why! Sammi stamped the sentiment onto a scrap of white card stock in a slow drying black ink and then heat embossed it with clear powder so she could ink blend over it without any bleeding. She trimmed it down into a neat rectangle and then used her own method to ink blend that gorgeous diagonal neon color effect.

She started by using some Mint tape (you can use your favorite low-tack tape) and masked off her sentiment piece save for the two opposite corners. She ink blended Bubblegum Color Fuse Ink from Set #5 onto these two corners.
She then peeled off the tape and using fresh tape to avoid any smudging, she covered up her sentiment again, leaving the area she wanted to be bright green exposed. She then blended Fern Color Fuse from Set #11 over that section.
And last, for her eye popping bright blue, Sammi repeated the peeling and masking process and applied Dreamer Color Fuse Ink from Set #9 over that area.
Here's a look at the final piece – stunning, isn't it?
After admiring this custom element for what would imagine was a long time given how spectacular it is, Sammi added it to her card layer. She then adhered the card layer onto a bright pink piece of card stock cut to offer a narrow border and then adhered the whole thing onto a slimline card base.
Here are the things from our store that Sammi used today – we've restocked these adorable Laughing Snowman so grab 'em while they are hot, uh……cold?: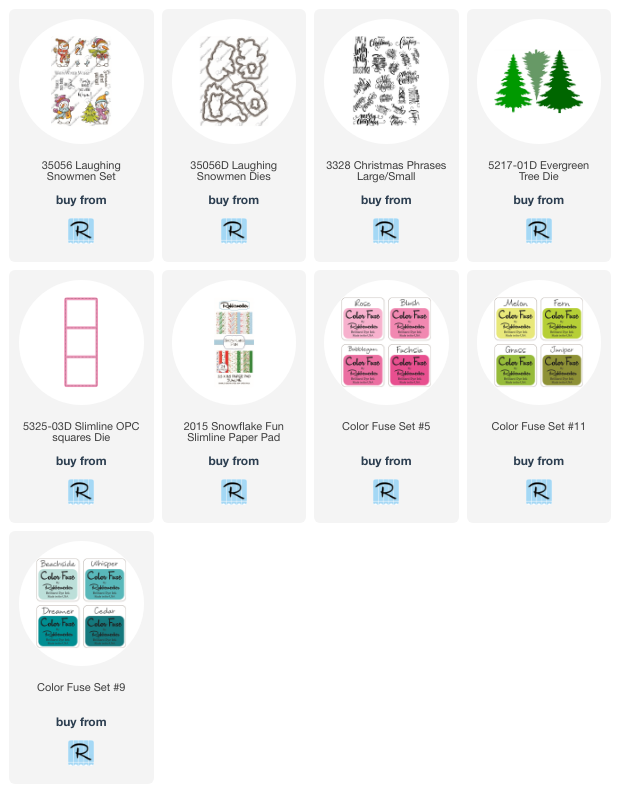 Have you seen our new Card Deal of the Day? A couple of times a week, we spot a project that we feel is deal-worthy. We put everything in one handy Card Deal of the Day link and you get anything and everything used for that project at 15% off! WOOT! And guess what? This card is the current Card Deal of the Day! Get on over there and scoop up these products now before the deal disappears!
We love the idea that neon colors for Christmas cards are both on trend and are gaining popularity. As much as we all love traditional holiday color schemes, there is something exciting and fun and loaded with zing when you see a traditional theme done in an unexpected way. What about you – are neon colors something you might try this year? Let us know – we'd love to hear your thoughts!