You will want to ski right down the front of this winter slimline card!
Ooooh – this winter slimline card feels so frosty and fresh and we love that Melinda was inspired to make it while thinking about all the skiing she wants to do this year. Now, our Pine Tree set – which keeps selling out! – has many different sizes and styles of trees and Melinda has upped the variety even more with her clever but easy masking technique. Let's dive right in!
Melinda started by cutting a piece of white card stock to 3 ¼" by 8 ¼" to serve as her background. Next, she tore some copy paper – you can use whatever material you like to use as a mask – to use to create her slopes. PRO TIP: Make several of these to provide a variety of angles and textures.
Melinda started at the top of her slimline card panel, laid down her mask, and using Arctic Color Fuse Ink from Set #7, she applied some color up the torn edges of her mask. Repeat with Sky and Odyssey Color Fuse ink to build depth and shadows.
Melinda repeated this process, moving down the front of the card, alternating the angles of the masks to create the slalom type hills she was dreaming about. When she was done with her hill edges, Melinda added her trees. Starting at the top again, she lined up her mask as close as she could and stamped the smallest tree from the Pine Tree set in the palest shade of Color Fuse Ink from Set #10, Mist. She stamped her trees in small clusters, varying how much of each tree was stamped onto the blue inked area for variety.
Melinda repeated this masking and tree stamping using a smart PRO TIP. As she went lower and lower on her panel, she both went from lightest to darkest ink color from that same Color Fuse Set #10 AND gradually increased the size of the trees, both in terms of the stamps themselves and how much of the impression appeared above the hill edge.
This easy to do and incredibly effective technique creates tons of perspective and really makes you feel like you are looking up, up, up the mountain.
When Melinda was all done stamping, she shook herself out of her mental ski practice and cut the panel with our Slimline Solid Postage Die. She then scoped out her slopes for the perfect spot for a greeting, chose a sentiment from our Snowmen With Presents set and stamped it in bold black right on her panel.
For even more delightful detail, Melinda added some falling snow against her trees with a white gel pen and a few Nuvo drops for a hint of shimmer. She adhered her gorgeous panel to a slimline card base and this card was complete.
Here's what you will want to have to reproduce this stunner at home: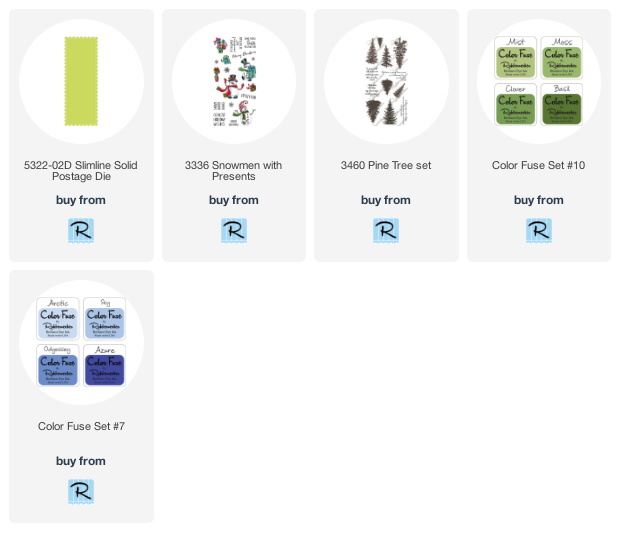 We can practically smell the snow when we look at this winter slimline card and are super excited to make a stack! They make fantastic all-winter cards and we are pretty sure even people who say they hate the snow will LOVE these cards!