These poinsettia Christmas cards are so lavish and real looking!
Poinsettia Christmas cards are a popular theme and these cards take that theme and go full on luxury with it! We cannot get over how real these flowers look and are sure that anyone to whom you send one of these cards will be speechless! Let's take a look at how Lisa created these for us today.
Lisa started by making her background, which you can't really see in the photos is a gorgeous metallic gold that really sets off those poinsettias. Lisa sprayed our Snowflake Stencil with Pixie Spray and pressed it over a piece of card front sized white card stock. She then sponged gold pigment ink through the stencil not worrying about totally even coverage to give it a beautiful patina.
While that piece dried, Lisa cut another card sized panel of white card stock with our Diamond With Holes Cover Die and added thin strips of foam tape around the edge, adhering it to the stenciled panel. PRO TIP: if you are worried about getting things lined up perfectly, add a thin line of liquid adhesive along the top of the foam tape to give you the ability to wiggle things around. Let dry thoroughly.
Lisa turned to her unbelievably beautiful paper poinsettias. Lisa had created hot pink/reddish and green gel prints – see her tips in this post – and used them for her petals and leaves. She made sure she cut the stamens with the brighter sections of the green for contrast.
Lisa assembled these beautiful blooms by using the green "flowers" as the base leaves overlaid with the pink layers. Lisa offset each layer so all the petals had their chance to shine and added just a touch of shaping to the petals for added dimension. When each blossom was built, Lisa dabbed some liquid glue in the centers and added the stamens in the centers using some tweezers to make placement easier.
Then she stamped her sentiment from our Winter Bouquet set on a scrap of white card stock with a coordinating green ink and cut it out with a die from our Nested Rectangle Small Stitch set. Lisa tried out a few arrangements of her elements and when she had something she liked, she adhered everything using varying thicknesses of foam tape, holding the sentiment to the side for the next step. To add even more dramatic detail and to echo the sheen of the stenciled background, Lisa splattered some gold ink over the entire card. When that was dry, she then adhered her sentiment and this work of art was complete.
Here are the things Lisa used from our store to create these one of a kind cards: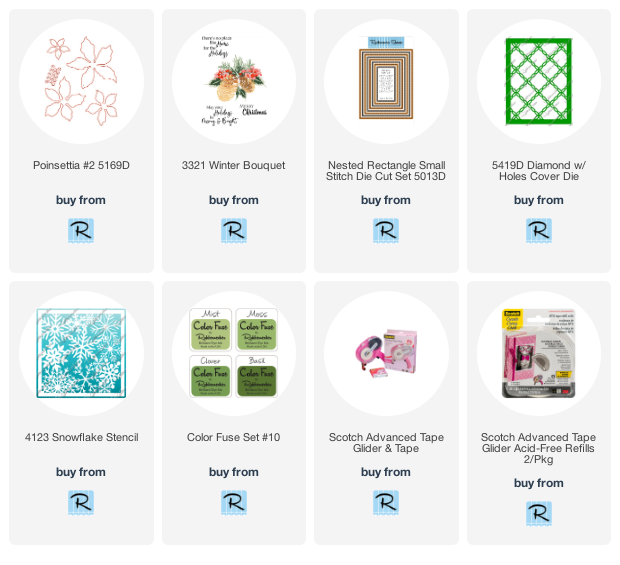 Let's look at this one more time!
These poinsettia Christmas cards truly are little works of art and we hope this inspires you to try making at least one. You may be surprised at how much easier it is once you get into it and just imagine the look on someone's face when they open the envelope from you!