Today's backgrounds use watercolor ink and a spritzer for a gorgeous effect!
If you love making custom colored backgrounds use watercolor ink with this super easy technique to create something totally unique and beautiful. You pretty much can't go wrong with this method and you can use any colors you like to create something dimensional, with lots of beautiful visual movement and such rich variations in shades.
One thing that is particularly beautiful about these card backgrounds made with watercolor inks is that you can stamp line style images over them in a simple dark shade – like Colleen did here with black – and those beautiful details in the images really pop.
Colleen has made a video tutorial for us so we can watch her show how backgrounds use watercolor ink to blend and float to let those flowers show through. Watch and then we will share the instructions, too!
And now here are the steps all spelled out for you!
Start by trimming a piece of watercolor paper to card layer size (depending on the die you use to frame your piece of art!).
Colleen opted to use the shades of blue from our Color Fuse Ink Set #9 plus a touch of yellow from Color Fuse Set #1. Whatever colors you choose, set them out in order of how much of each you'd like to see in your background. For these instructions, we are going to follow Colleen's making of this card.
Using a glass mat, apply some Whisper Color Fuse Ink over the surface. You can do this by either swiping the ink cube over the surface or, now that we have all our Color Fuse Inks in refills, drip a few small drops of ink. Spray the ink with a spritzer filled with water. Allow the water to move the ink around and spread it out. The more water, the less saturated the color AND the more "spread" you will get on your background.
Place the watercolor paper over the ink on the glass mat and let it sit for 20 – 30 seconds, gently pressing all over the help the ink transfer onto the paper. Repeat this process until you have as much of that color you want in your background. NOTE: Don't worry about complete coverage of the paper – you want some uncolored spots and plenty of room for your other shades!
Dry thoroughly with your heat tool.
Now repeat this process with Beachside Color Fuse Ink, using less ink so you don't completely cover up your first color. Dry thoroughly.
Repeat the entire process with even less Dreamer Color Fuse Ink. By now you can see how you are layering these shades and allowing them to overlap and stand on their own here and there.
As a last ink coloring step, repeat this process with a little Autumn Color Fuse Ink for some bright pops here and there.
Experiment with color combinations you love because honestly, you really can't mess this up!
To add a very subtle but spectacular effect, lay our Leaf Stencil over your watercolor inked background and very lightly apply one of your ink colors over the whole surface; Colleen chose Beachside.
Because you are using watercolor paper which has an uneven surface, use a stamp postioner for the next steps so if you have to overstamp a couple of times, your lines will stay crisp.
Using the outline only stamp from the largest flower from our Sweet Surprise stamp set, stamp the image with black ink into three corners of the panel. Re-ink and re-stamp as needed to get a lovely solid line. PRO TIP: Let the flowers hang over the edge here and there for continuity of the scene. Repeat this with the outline only stamp of the second largest flower, using it to fill in the larger empty spots.
Now for the rest of the empty spaces, use the solid stamp from the smallest flower and stamp it as many times as you need to get an even image.
Use the leaf stamps to fill in any more empty spots. Stamp the flower centers with Beachside Color Fuse Ink (or use the color you used with your stencil.)
Using the largest die from our Inside Scallop Frame set, cut a piece of black card stock and adhere to a white card base. Adhere your gorgeous watercolor inked piece to that with your rape runner and do the "Stamper's Pose" to admire it. Don't know what the Stamper's Pose is? Take the card in your hand, extend your arm to full length and turn your head to appreciate the beauty of your creation!
For your greeting, stamp your choice of sentiments onto scraps of white card stock with black ink and trim them down to rectangles. Mat these in back card stock and adhere to your masterpiece with dimensional adhesive with a swirl of metallic thread behind them. PRO TIP: To quickly mat a stamped sentiment, simply adhere it in the corner of a scrap of the card stock you are using as the border, equidistant from each side of the corner. Now using a paper trimmer, trim down the other two edges of the scrap to the same width. Quick and easy!
You can see here how all these easy to make and "don't have to be perfect" layers come together to make something you just can't stop looking at!
Here's what Colleen used to make this for us today: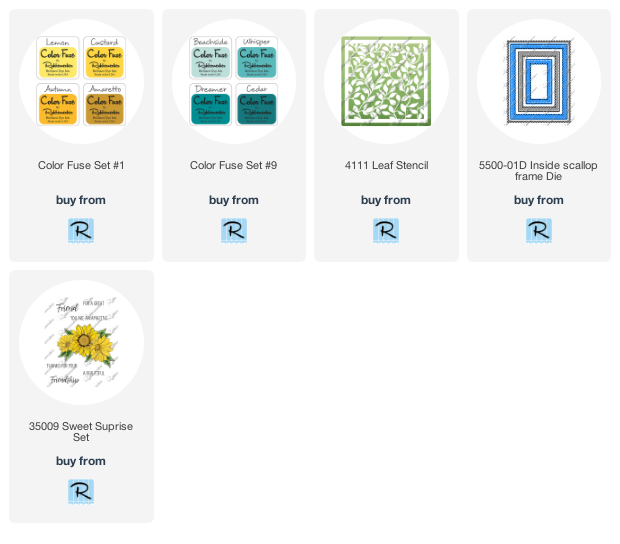 Lots of techniques for beautiful backgrounds use watercolor ink and this one using our amazing Color Fuse ink is a keeper! Plus, this easy to do, high impact method is a fabulous way to make a beautiful card in a rush! Give it a try!