What better way to celebrate a birthday than with a birthday slimline shaker card complete with a yummy cake and some fancy fireworks? Lisa has made a card for us today that really puts the fun and sparkle into a card and we just LOVE it!
Let's take a look at how you can make this card for your own big birthday celebrations.
First, line up the largest Slimline Nested Stitch Die with the fireworks dies inside being sure to leave room around the edges for your foam tape strips. Lisa recommends using some removable tape to hold things in place while you run this through your machine so nothing "jumps".
Cut a piece of acetate 7 7/8″ x 2 7/8″ and adhere it to the back of your die cut panel and apply foam tape strips around the edges of this panel. Add a strip just under your firework openings so your shaker filler stays up behind those fun fireworks. Add a few pieces of that foam tape on the bottom half too, to keep your whole panel from getting squished!
Cut a piece of whatever color card stock you want for your background to 8 1/8″ x 3 1/8″ and lay your sequins on that piece behind where the fireworks will be, making sure they will stay within the walls of the foam tape. PRO TIP: It may seem picky, but take the time to flip your sequins right side up for the maximum shine and sparkle. Add your die cut piece over this panel and press down everywhere to make sure it's good and stuck.
Now you can start on the cake! Here you can either cut from different colored card stock or use your Copics or other favorite coloring media to color up your elements.
Assemble the cake by building up from the bottom to keep things nice ad straight and then add on your frosting, candles and flames. To keep the eye moving from spot to spot, add some glossy accents to the candle flames.
Because you want your cake to be extra special to match the fireworks, you can put it on a "pedestal" – here Lisa used the base from our Snow Globe set and cut it from glitter paper! So fancy!
All you have to do now is add that cake and your stamped greeting plus just a few sequins to add more of that shine and you've got a crazy amazing fun birthday slimline shaker card perfect for anyone!
Here are the items Lisa used on her awesome card today: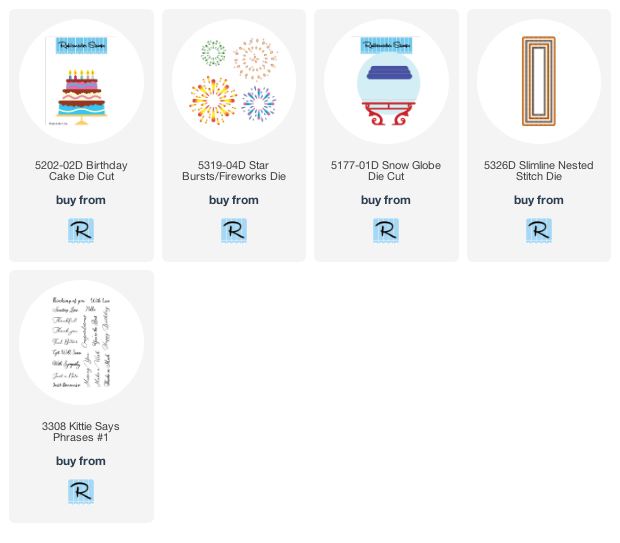 This birthday slimline shaker card sure is a fun project for those milestone birthdays and we can see how swapping out the colors can make it an idea we will return to over and over!