Raise your hand if you've tried no line stamping. Ok, now raise your hand if you haven't. Either way you are going to be blown away by today's project using no line stamping. This card is so beautiful, it could be framed and kept as an always-on-display gift, which was what Melinda says she was shooting for when she created it. We think the totally hit the bullseye!
And what's more, it's not hard at all to get this look! A little practice with some no line stamping on some scraps and you will be hooked! Let's dive in to the steps to create this gorgeous giftable card!
Start with a piece of watercolor paper that is 4 1/4″ X 5 1/2″ – you want the full piece because you will be die cutting this later for some interest on the edges. Using No-Line ink (see below), stamp your choice of flower bouquet at an angle at the bottom of the panel and again partially at the top on the opposite corner. Melinda used our Small Daisy Bouquet #2.
Regarding No Line ink: there are specialty ink pads that you can use where the lines disappear after you've colored in your images. You can also use any very light colored ink – even stamping off to make it lighter – and the lines will not show once you've colored over them. We recommend testing shades because everyone sees colors differently so one that stands out for one person may be hard to see by someone else. Try out the paler shades of our Color Fuse inks and find one that works for you.
Dampen the flower and then color with your watercolor markers of paints and allow them to dry (you can speed this up with your heat tool if you are like us and can't wait to move on to the next steps). Then fill in your centers and start on your leaves. Letting each coloring stage on each component dry first lets you add details without the colors getting muddy.
When your whole panel is dry, use a T-ruler (to get your lines perfectly plumb and level) and mark a frame lightly with pencil – check to make sure you love where it is. When you are satisfied, go over the lines, using the ruler! – with a gold gel pen or your favorite metallic marker.
Now stamp our Script Border in Mocha Color Fuse inside the frame. Cut that panel and another in a vanilla card stock with the largest Nested Rectangle with Pierce die. Adhere the watercolored panel to the front of your card base with some foam tape. Stamp your greeting – here a birthday greeting for our theme – onto the other piece and adhere to the inside of the card.
WOW, right? You can see how those lines disappear leaving your flowers look like they are fully hand painted. Here are all the goodies you will want from the store to make this card that they will keep forever!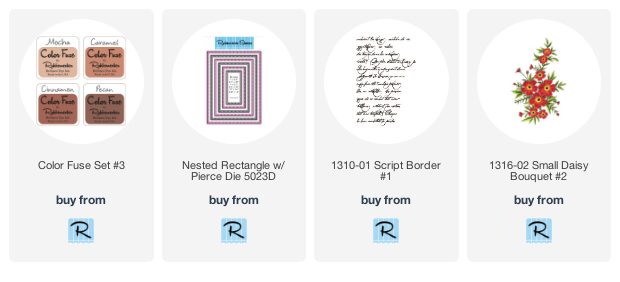 Are you itching to try this no line stamping technique? Or if you are already a pro at no line stamping, are you over the moon about this gorgeous card? We would LOVE to see what you make using this technique so be sure to share on our Faceboook page so we can all inspire each other!