You won't believe how easy it is to create this blue ombre background with our Color Fuse Inks!
When we first saw this card from Carol, we were struck not just by the stunning poppies but also by that stunning, rich blue ombre background. Carol said she was inspired by a photo of poppies against a deep blue sky and we say she nailed that feeling on this beautiful card! Let's take a look at the steps Carol shares to make one ourselves.
Carol started with that gorgeous background panel by taking a card sized piece of white card stock and blended the blue inks from our Color Fuse Set #8 over it from darkest at one short end to lightest at the other. Carol recommends blending each shade a bit wider than each section and overlap with the next color. Then by going over each shade a second time, you even out your blend lines and are able to create a true ombre. We formulated our Color Fuse inks specifically to offer superior blending and you will see that result as the ink dries and the colors blend into one another.
To ensure that her Precious Poppies really stood out against this lavish blue ombre background, Carol decided to heat emboss her images with gold powder – remember to use your anti-static tool before stamping with Versamark to avoid any strays flecks of powder.
Carol colored her poppies in with her watercolors, making sure to work in two layers. Her first application was to add the color and the second (and more if necessary) was to add the depth and shadows. When her flowers and foliage were completely dry she cut them with our coordinating dies and paper snips. She then adhered her stems, leaves and blooms together with some liquid glue to make arranging them on her card panel easier.
Next Carol chose the placement for her sentiment. She placed her blue ombre background panel into her stamp positioner, arranged her flowers over it in a way she liked, selected the spot for her sentiment and placed the stamp into the space. She removed her flowers, closed the hinge on her positioner and stamped with Versamark. She then heat embossed with the same mirror gold embossing powder.
Now Carol assembled her card. She adhered her blue ombre background to a white card base and added foam squares to the backs of the blossoms only. She adhered her flowers to her card and then tacked down just the stems with dots of liquid adhesive. This emphasizes the flowers coming up out of the card along with the leaves not being adhered to the card at all – the movement accentuates the dimension! Carol trimmed the ends of the stems flush with the bottom of the card and this was ready to send!
Here are the things you will want to add to your shopping cart to make this beautiful card at home: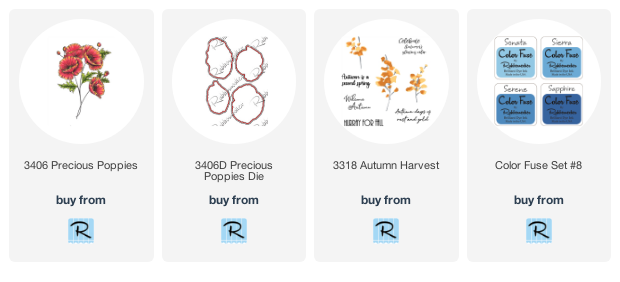 This gorgeous blue ombre background would be perfect for so many types and styles of cards and we can't wait to hear or see how YOU use this pretty effect. Be sure to share on our Facebook page because we LOVE seeing how you use our goodies!