Check out the backgrounds for these tags made with color burst powders!
Today's absolutely GORGEOUS tags made with color burst powders and one of our new floral stamp sets is a bonus project from Natasha and we are SO excited! Natasha says "I love the new Amazing Blooms stamp set! I wanted to create some simple, yet colorful gift tags using these beautiful layering stamps, along with color burst powders." Let's take a closer look at how she made these eye-poppingly pretty tags.
First, Natasha used some tape (old washi works great!) to fix her watercolor paper to a surface to keep everything in place when misting. She used different color burst powders that caught her eye and added small amounts here and there on the surface of the paper. Using a fine mister, she spritzed the powders and let them "bloom", spritzing and adding more powders as needed and letting the water do all the work. You've gotta love a project that almost makes itself!
When Natasha loved what she saw – as we do! – she let the panels air dry completely. When they were bone dry, she stamped the images from Amazing Blooms over the panels with Versamark, one layer at a time. She then heat embossed these stamped images with different embossing powders for entirely different looks.
She then cut these panels with our Nested Tag Stitch die and also cut some patterned paper with the same sized die. While she had her machine out, Natasha also used our 2 Part Butterfly #3 die to cut the back from patterned paper and the top from white card stock.
Natasha tied the tags together in pairs with little lengths of ribbon, adhered the butterfly together with liquid glue and popped it on one of her tags. The last step was to stamp her sentiments onto card stock scraps, trim them down closely and add them to the tags with foam tape.
Here are the items Natasha used on this bonus project for us: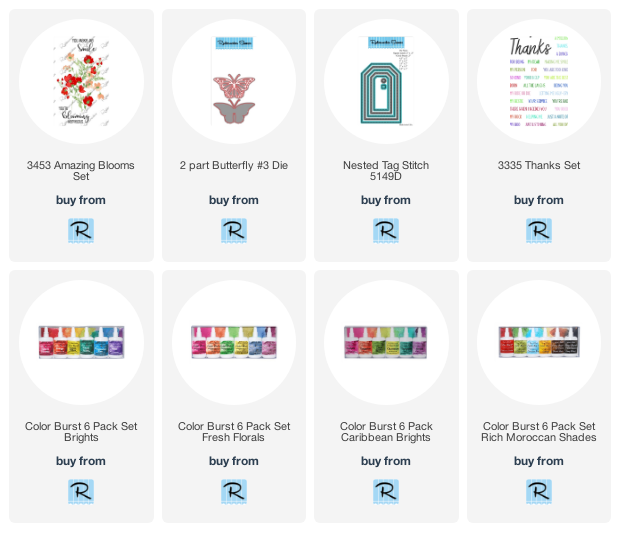 Think of all the ways you can use this project! You can use them as intended – as gift tags tied to a package. You can tie them onto a plant as a gift. You can add one to the top of a home made dish for someone who can use a little cheer. You can add them to a card base and have an instant card. There are zillions of ways you can use these and thanks to the nature of color burst powders, every one will be a unique work of art!