See how a scalloped square frame creates the perfect setting for some of our new flowers!
The scalloped square from our Square Combo #1 OPC (One Piece Cut) Die remains one of our most popular shapes and when you see it used on this card, you will immediately see why. This simple but adorned shape creates the perfect frame for today's greeting and gives a tiny arrangement of some of our brand new flower stamps an ideal place to sit. Let's take a closer look at the making of this adorable, all occasion card with Jamie
Jamie started by stamping the flowers from our brand new Little Cosmos set onto watercolor paper in Versafine black ink and heat embossed it with clear powder. She then water colored them and cut them out with the coordinating die.
While she had out her machine, Jamie also cut her patterned background paper, black card stock and white card stock all with our Square Combo #1 OPC die. Jamie uses our Crossover II machine and says "Iit's my favorite because you can adjust the pressure on top of the machine and this makes it so you do NOT need different plates!" These machines are absolute workhorses and cut TONS of different media so if you are looking for an upgrade, consider this awesome machine.
Now Jamie adhered her two outer decorative paper frames together to a square panel of white card stock with adhesive tape. Moving inward to the center, she then added that iconic scalloped square followed by another patterned paper element and then the black circle component.
She stamped her sentiment onto the white center circle and adhered this to the center of the card. To emphasize the pretty, playful scallops, Jamie used a white gel pen to add little dots to the scallops – what a great addition!
Now Jamie arranged her flowers around the bottom left of her scalloped square using foam tape, adding a tiny bud under the greeting on the white center circle. To add just one more adorable detail, Jamie used our Small Butterflies die to cut one tiny visitor from pink patterned paper and added it with liquid glue to the circle. She then adhered the whole glorious assembly to a black card base.
The basic design of this card is so adaptable and we can see this any of the flowers we have that would fit on this kind of card with any greeting, making this scalloped square card idea a total keeper. Here are the items you will want to have to recreate this project.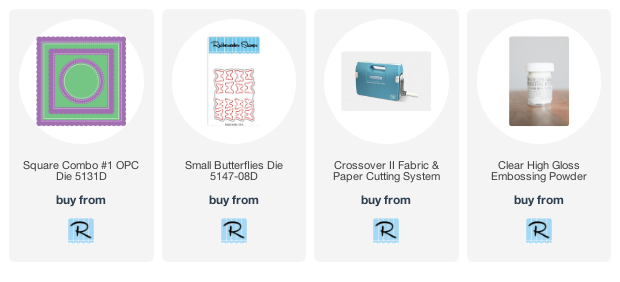 We love seeing some of our oldies-but-goodies like this classic scalloped square getting a chance to show off in combination with brand new goodies. Who says you can teach an old die new tricks?