Get some more tips on finding color combo inspiration for cards!
In this post, Colleen shared how she finds color combo inspiration for cards and today she's back with another gorgeous project inspired by the original. She added a whole new look to her card with different pops of color and we love seeing how she changed things up to make everything look fresh and different.
Here's the original inspiration photo:
And here's the photo that inspired Colleen to make some tweaks to her original design:
We can't WAIT to see how she's married these two images together. Let's get to it!
The making of the background for this card is almost exactly the same as for the first card. We didn't want you to have to read all of it over again so we've just added the basics here and you can pop over to the original post to see all the extra details.
Direct to paper some Caramel Color Fuse ink from Set #3 onto a piece of acetate and spritz with water.
Apply acetate to a piece of watercolor paper and let the ink settle for about 10 seconds. Repeat to cover the paper about 75%.
Use the same technique to add a little Cinnamon Color Fuse ink from the same set just here and there to add some details. Allow this to dry completely.
Add some more Caramel ink over opposite corners with our Stained Glass Stencil.
Using a text stamp from our Splatter Stains set, randomly apply Cinnamon ink over the panel here and there using your fingers instead of a block (see why in the first post – it's a cool tip!). Use one of the dots stamps from the same set and add some more Cinnamon details in the stenciled corners.
Here's where this design differs – use your blender brush to add some Orchid Color Fuse Ink from Set #6 all around the edges, avoiding the center of the panel. This is to echo the bright, pinky-purple shade of those bricks in the background. PRO TIP: If you have a background design for your cards that you love you can always customize it for new projects by taking this last, simple step to introduce a new color to the scheme.
Stamp the flowers and leaves from our Daisy Daydream set with permanent black ink and color them with alcohol markers in shades of teal and orange pulled from the new color inspiration. PRO TIP: Don't try to "match" the colors in your inspirations – choose colors that work together with the supplies you have and even add ones see in your mind's eye to add even more gorgeous impact. When done, die cut your floral elements.
Using the middle sized die from our Fancy Decorative Nesting set, cut a piece of white card stock and then adhere this to the center of the card front with your tape runner. PRO TIP: adding a neutral to a project where you are featuring lots of rich visual texture – like in the background – with bright pops as with your details give the eye a place to "rest" even in small doses. This lets all your deliciousness stand out!
Cut some white card stock with our Spring Birds and Large Birdhouse dies (save one bird and one birdhouse for another project). To pull the color story together, custom color these pieces with Color Fuse Inks.
Color the body of the bird with Lilac from Set #6 and Beachside from Set #9. Use Apricot from Set #2 to color the wing, the beak and the foot of the bird; use a touch of Pumpkin to add some dimension to the wing. Color the bird house with Crimson from Set #4 and the roof and perch using Caramel; adhere these together with liquid glue.
Arrange your die cut elements over and around the white layer and when you are loving the way it looks adhered them with varying thicknesses of dimensional adhesive for some depth and perspective.
Stamp your sentiment onto a scrap of white card stock, trim it down neatly and add over your design with more dimensional adhesive.
Take a few moments to appreciate your work! Here is what you will want to have to make these two stunning projects: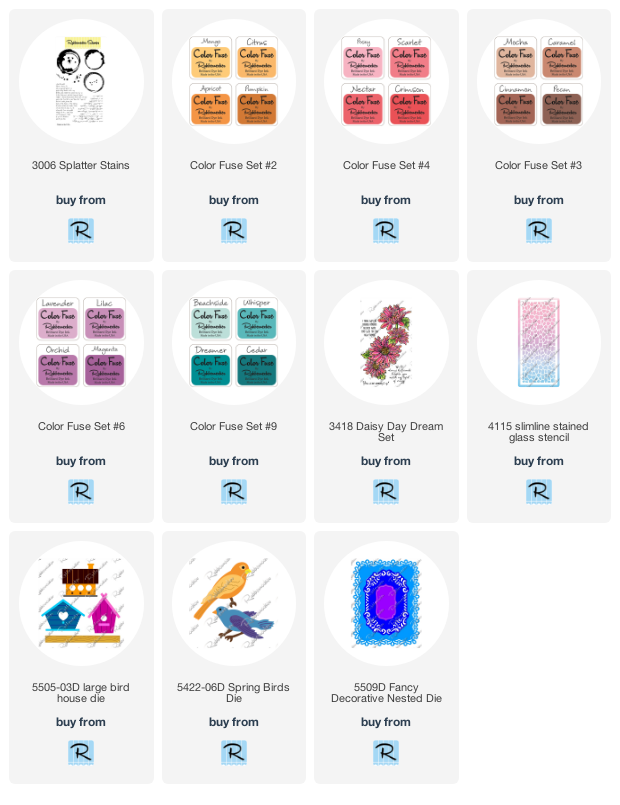 We have one more treat for you to share more about color combo inspiration for cards! Come back soon and see what we have to give you a first hand look!