Make two handmade spring scene cards in one fun card making session!
Today Melinda is sharing two handmade spring scene cards that she's put together using some of the dies from the latest KittieKraft release. Melinda says "These cute birds were at the top of my to get list!" We are really excited that so many other people are really excited about these pretty birds – they are "flying" out of the shop so we know they are going to be well loved.
Because there are two birds on one die. making two cards at once just makes sense. And because each bird is styled a little differently, you can use the same basic card design idea to create the little springtime scenes and still have them turn out just different enough to be unique. Let's make them!
Start by using the largest of our Mini Slimline Nested Stitch dies to cut a piece of white card stock. Place our Brick Stencil over this piece and apply Chill and Silver Color Fuse Inks from Set #12 through the stencil. You will need to slide the stencil over a little to cover the whole surface but don't worry – this stencil was designed to easily line up to allow a continuous pattern.
Cut this piece out with our MSLI (Mini SlimLine Insert) Rectangle Stitch Die (one of Melinda's favorites!) and set the rectangles aside. While you are cutting, use our Spring Birds, Branch and Cheery Blossoms dies to cut more pieces and scraps of white card stock. Using your favorite coloring medium – Melinda used Color Fuse inks in all shades – color your birds, flowers and branches in the color stories you want to use on your cards.
For the first card, take a white mini slimline card base and using some Sonata Color Fuse Ink from Set #8, apply some of that beautiful blue to the center of the card front.
Add dimensional adhesive to the back of your die cut window frame and adhere it over the inked area.
Using a combination of dimensional adhesive and liquid glue or glue dots, add your bird, branch and blossoms to the card, tucking ends in, under and over the frame to add that beautiful layered look. Melinda says "I usually fuss with this a bit until it feels right" so take your time and fiddle 'til you love it!
For your second card, make another slimline card base and adhere the brick rectangles to the front with dimensional adhesive. PRO TIP: Use the die to help you instantly line up your die cuts. (This is when the fiddle time isn't worth it – lol.)
Repeat the arranging process with the other half of your die cut elements to make this second little work of art.
Then, choose your sentiments now or when you send one of these charmers, and stamp them in your choice of the beautiful grays from Color Fuse Set #12. PRO TIP: If you have cards where stamping the sentiment can be done last, consider leaving them blank. Then you can customize the greeting to the occasion for which you want to bless someone with your talents.
If you want to make these two-in-one cards, here's what you will want to add to your cart: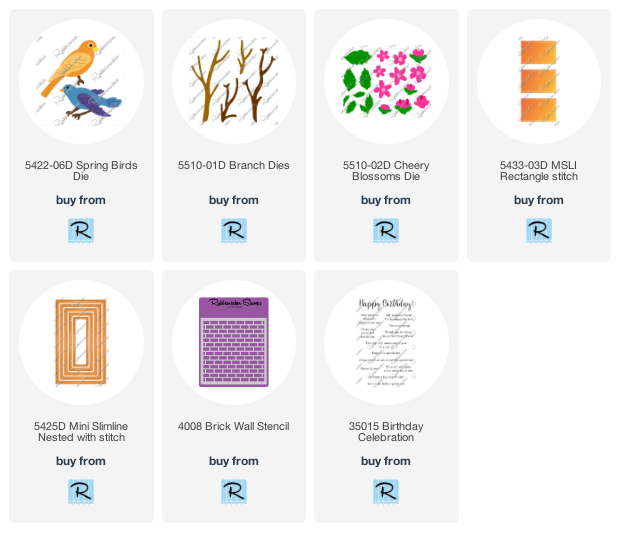 Here's another peek at card one:
And card two:
Don't you just love these handmade spring scene cards with all those sweet details? We sure do – and we love that whole two for one thing because more cards equals more fun!