We just had to add this funny saying for summer cards to our latest set and this card shows it off to perfection!
Today we have two adorable cards made using one of our new sets, including this funny saying for summer cards that sums it all up for a lot of us! What a cute way to commiserate with a friend over your shared feelings for one season while celebrating another. Let's check out how Lisa made both of these cards and get a good look at all the cuteness in this new set!
Lisa started by taking two pieces she'd previously created using her gel press, our Wavy Stencil and shades from our Color Fuse Ink Sets #8 and #9. You can learn some tips from one of her posts here – remember, this is about the FUN so experiment and play around until you have a look YOU love. To make one standard card and one mini slimline card, Lisa cut one panel with a die from our Mini Slimline Nested With Stitch set and the other with our Nested Rectangle Small Stitch Die set. While she was cutting layers, she also cut a piece of white card stock with a die from our Mini Slimline Tab Scallop Holes die for that pretty detail on the slimline card.
For her slimline card, Lisa layered her gel print panel over a piece of pale blue card stock cut to provide a whisper of a border using dimensional adhesive. Then she layered that the decorative white layer with her tape runner. She then trimmed her mini slimline card base to fit just behind the scalloped edge and adhered her layered panel to that with more tape.
For her standard sized card – the one sporting that funny saying for summer cards – she also layered her gel panel with dimension adhesive onto a piece of blue card stock with that teeny border and then popped that onto a card base.
Lisa then created her two little elements for her greetings. For her mini slimline birthday card, she used the smallest die from our Nested Banner Stitch die set and the used our Mini Slimline Nested With Stitch set again cutting another piece of white card stock with the smallest die.
Using her stamp positioner, Lisa stamped her sentiments onto these die cut pieces using her pick of Color Fuse Ink from the same set used in each card's background. She added these to her cards, lining up one of the edges of the die cuts with the edge of the card, using dimensional adhesive.
Now Lisa stamped, colored and used our coordinating die set to cut out her penguins and all those darling details from our new Summer Penguins set.
Lisa did a bunch of fun things with these die cuts – here's a list of fun things you can "borrow" and try on these cards and others:
To make the penguins look like they are sitting IN the floaties, use a kraft knife to slice along the inner curve of the floaty and insert the penguin into the slit.
On the standard sized card, use your kraft knife to cut along the penguin's wing where it overlaps his body – don't worry, it doesn't hurt! – to make a little slice where you can insert his ice cream cone.
Cut one penguin in half and use each piece on one card to create the look of a scene in motion.
Use a variety of thicknesses of dimensional adhesive when adding the little detail die cuts to the surface of the water to make them all look like they are floating on the little waves.
Save a few tiny details to "anchor" your greeting elements to the scene.
Aren't these summer cards just SO ADORABLE?
If you want to make these cards – and we know you do! – here's what you will want to snap up from the store: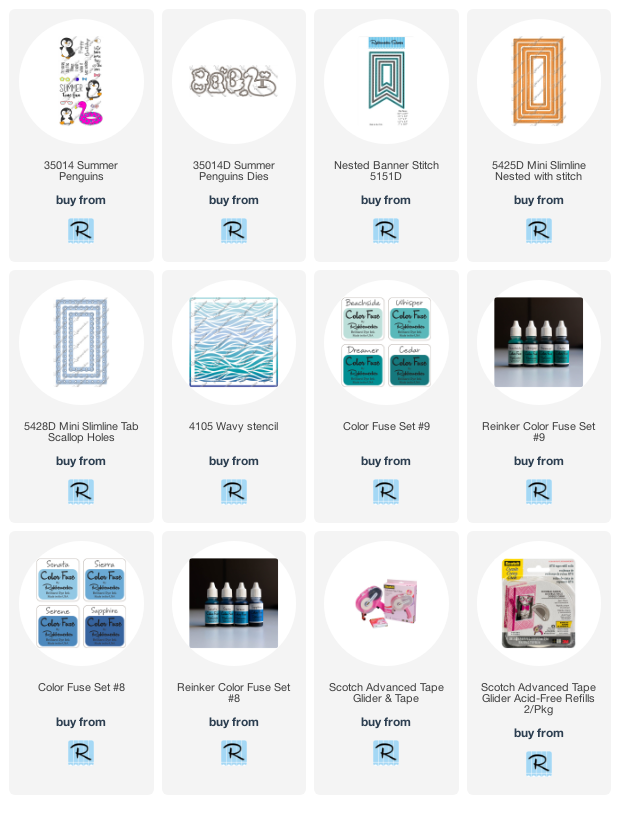 Think how many ways you can use that funny saying for summer cards on plenty of OTHER styles and designs! It's the perfect pairing with those playful penguins and it's simple enough that you can use this explain away ALL your "chilly" comments from the winter!