These country style hand stamped Christmas tags are so colorful and so EASY to make!
When we saw these country style hand stamped Christmas tags from Allison, our jaws fell open. They are so colorful and loaded with darling details! And of course, as we all know, tags are a twofer project because you can use them as little add-ons for gifts but you can also pop one on a card base and have an instant card ready to send.
Allison started by cutting white card stock with our Holiday Tags die and then stamped them with different Color Fuse Inks with our Cheesecloth Background stamp.

She then stamped different images from our Winter Wonderland set and cut them out with our coordinating Winter Wonderland dies. Using more Color Fuse Inks, Allison swiped the cubes onto a craft sheet and used a wet watercolor brush to pick up the ink and paint the images.

She also stamped her sentiments onto scraps of white card stock and trimmed then down closely, layering them onto coordinating card stock scraps. Using a mix of tape and foam adhesive, she layered her elements together to make little "bouquets" and adhered them to her tags. Using different scraps of trim, Allison wound different ones around her tags. Allison stacked some buttons, tied them together with festive baker's twine and then added those atop her little arrangements. And as a final touch, she added some little gems here and there.
SO adorable! We love projects that use up scraps but have a beautiful, textured finished look. These are so fabulous that we think they would make an amazing hostess or thank you gift for the holidays; make a batch, package them up, add a bow and – BOOM – instant gift!

Here's what you will want from our store to make these beauties"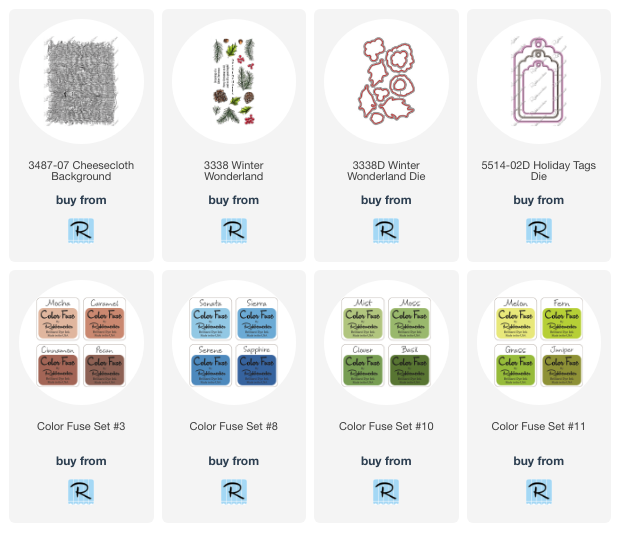 There are so many ways you can use these country style hand stamped Christmas tags – as gift tags, as place cards, on a card base and as a gift themselves. Grab those scraps and turn them into stamping gold!