Learn to create gorgeous oxide ink mixed media backgrounds with these easy tips!
Today Melinda is sharing her take on making oxide ink mixed media backgrounds that add so much excitement, color and texture to any project. And it's so much easier than you would think when you use the tips she shares right here in the post.

Melinda says "I have been so inspired by mixed media ever since I created the 6 X 6 Watercolor Beauty Paper Pad for Rubbernecker. I so enjoyed creating in this style and exploring what I love about mixed media. I really like bright colors and that reflects in so much of my card making and watercolor. I wanted to combine some non traditional colors and mixed media for my Christmas card today." Well, we are obviously THRILLED by Melinda's gorgeous work in both her 6 X 6 Watercolor Beauty Paper Pad and her 6 X 6 Scenic Route Paper Pad! And we are extra happy today to have Melinda sharing her creative process and all her insider tips. Shall we get started in Melinda's own words?

Start by cutting some watercolor paper to A2 size. I made this panel thinking I would be using it up and down instead of landscape. In the end it didn't matter and I think it worked out beautifully. If you are looking to make a few of these use the same steps below to create a 8 1/2×11 inch panel and cut into 4 card bases.
Next swipe your Cracked Pistachio and Picked Raspberry oxides on the top of your watercolor paper.
Spray with water and dab away excess water, especially where the two colors mix and create a brown. when you wipe away the watery brown mix you'll see the pure color underneath. If you leave the watery brown it will remain as it dries into the watercolor paper.
Let this start to dry and then spray with droplets of water. Let the water sit for about 30 seconds and then dab away.
Now take your Snowflake Stencil and using a blue green acrylic paint and a sponge tap the paint onto the stencil. don't apply lots of pressure or the paint will bleed under the stencil. It okay if that happens it can add to that mixed media look.
After the acrylic paint has dried take out your Repeating Bricks Stencil and apply some gold acrylic paint – a gold pigment ink will also work.
Let the gold dry and then randomly stamp the script stamp from the Splatter Stains stamp set with some blue green pigment ink. Then splatter some white paint; whatever you have is fine to use just make sure everything dries thoroughly before your next step.
Now using black card stock cut the script portion of the Merry Word With Shadow die 3 times and stack those up with liquid adhesive. Use the shadow portion to cut out the center of your mixed media background. Adhere that now die cut panel to a card base and adhere your die cut word in the opening.
With the Holly and Greenery Cover die, cut a piece of white card stock and add that over your mixed media panel. Stamp the sentiment from Winter Friends and cut out the word "Christmas", trimming closely and add that just below the die cut "merry".
Rubbernecker here – is that not GORGEOUS??? And as we went through this with Melinda's fantastic instructions, it struck us that this card, even with all its beautiful, magical details, could be a batch card! Think about it – you could do all the different mixed media background steps separately, at different times. Then you could cut the whole sheets into your background panels. The die cutting can all be done in stages, as well as the stamping and trimming. Since assembly is so quick, you can spend all your creative time on those backgrounds, which is where this card's magic comes from. Hmmmmmmm……
Here's what you will want to have out from our store to make this card: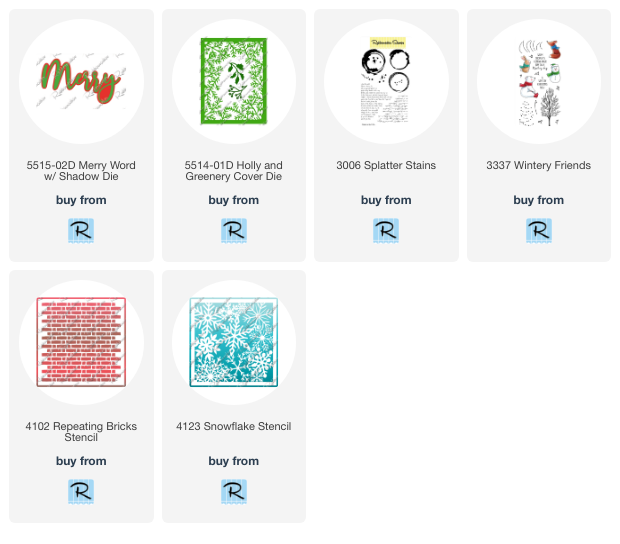 Did you know that making these rich and colorful oxide ink mixed media backgrounds was actually so easy? Are you inspired to try it out? We sure hope so and, of course, would love to see what you come up with – share it on our Facebook page so we can admire YOUR take on this spectacular look!