Learn how to create a winter card background that you can use all season long!
Today Natasha is sharing a way to create a winter card background that you will want to use over and over. It will come out a little different every time and that is one of the things that makes it so fun to use! And the card is just SO cheerful and sweet and would make a perfect non-denominational holiday card.
Let's dive into the making because you will want to get started as soon as you read this post!
Start by adding a few drops of Color Fuse Re-Inkers in Odyssey and Azure from Set #7 and Dreamer from Set #9 – one color at a time – to a glass surface. (If you don't yet have the re-inkers, you can swipe your ink cube across the surface until you have a little pool.) Mist with water and take a piece of watercolor paper and smoosh it into the ink. Dry with a heat tool and then flick with some water droplets. After just a few seconds, blot with a paper towel. Repeat this process with each color and even repeat with the same color until you love what you see!
When completely dry, cut your panel with one of the dies from our Nested Inside Scallop set, saving the scraps.
Now add some texture to your card background by applying your choice of color of acrylic paint through our Stars and Circle Stencil and when that is completely dry, ink up our Twas the Night background stamp randomly and apply to various spots on your background.
To add even more textural interest, press a VersMark pad here and there around the edges and into two opposite corners of your panel and then heat emboss with white or cream powder. As a last step on this awesome card background, use Hearth Color Fuse Ink from Set #12 to darken the edges.
For your focal elements, stamp your snowman from our Snowman with Presents set, color him in with your favorite medium and cut him out with our coordinating die. While you are cutting, die cut a tag using our Nested Tag Stitch set and then use inks from Color Fuse Set #3 with our Wood Grain Stencil to create a fun, natural look.
To echo the background and to accentuate that frosty look, add some VersaMark ink to the edge of the tag and heat emboss with the same white or cream powder and then add a little distressing with the Hearth Color Fuse Ink.
Use our new Newspaper Background stamp with Hearth Color Fuse and stamp a scrap strip of white card stock. Adhere to the wood look tag and trim the edges.
Take one of the scraps left over from your die cutting your inked background and stamp your choice of sentiment onto it with black ink. Trim it down closely and then add a little of the same heat embossing and Hearth Inking to the edge of this element, too, to create that beautiful cohesion that makes a card like this so irresistible.
Trim a piece of coordinating card stock to card layer size and use the Hearth Color Fuse to add a little distressing to the edges. Adhere this to your card base and then add your beautifully made background over it. Tie the small tag and the wood grain tag together with a little twine and then use a dab of liquid glue to position the small tag as you like it. Adhere this assembly to your card with some dimensional adhesive.
Add a scrap of cheese cloth over the tag. PRO TIP: You can "dye" your textile elements with Color Fuse Ink for perfectly coordinating embellishments! Adhere your snowman over this with dimensional adhesive and now your card is ready to WOW someone special!
Here's what you will want to grab to make this card: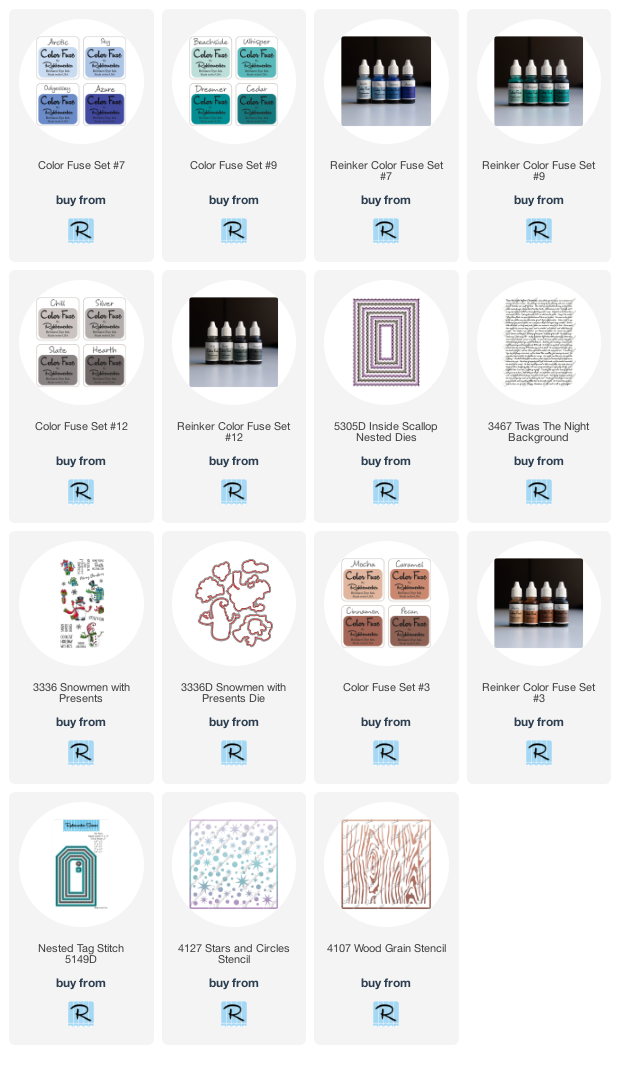 You've got some great tips on how to create a winter card background that is so versatile and truly fun to make so we hope you get a chance to try it out! Think of all the opportunities to use a frosty, wintry look like this…….from fun to whimsical to funny to mystical, this beautiful card background can do it all!