You don't need a special wreath die cut for your Christmas cards – use what you have and switch it up with today's tips!
Today Melinda is showing us a simple but stunning way to convert a spring wreath die cut into a holiday card, giving us instant extra value from our crafting tools. This card is also just perfect for batch making! Melinda says "I am truly enjoying this Christmas in July and have batched a bunch of cards already. I'm feeling prepared for the season and will enjoy not having to stress about getting cards done."
We sure hope you are feeling the same way! And with our big Christmas In July Release the other day, we've added lots of new options so take another look at the ideas we've shared and see which of the new goodies we have inspire you to get started. Trust us, when the holiday get here, you will be SO glad you did your cards early so you have time for all those other fun things that pop up.
Let's get the detail on how Melinda converted a spring wreath die cut into this beautiful Christmas card.
Start by cutting white card stock with our Spring Wreath die and blend your favorite shade of Color Fuse Ink from Set #10 over the die cut from bottom to top leaving the upper tips of the leaves very pale to mimic light. PRO TIP: This is a great way to use up scraps of light colored card stock. Try this with pale greens, yellows and creams for some variety.
Because Color Fuse Ink is alcohol marker friendly, you can use a coordinating color marker to add some leaf vein and stem details and have them really pop! Melinda combined her YG63 Copic with Moss Color Fuse Ink in these photos.
To make these realistic berries, swipe Crimson Color Fuse Ink from Set #4 over a scrap of white card stock and when dry, cut with our Berries die. Add a single tiny drop of Glossy Accents to each berry for that incredible dimension and brilliant shine.
For the sweet gold bow, either cut it from a scrap of gold card stock or cut from white card stock and swipe over a metallic gold ink pad.
For your background, cut a piece of light blue card stock with the largest die in our Nested Rectangle X Stitch set and then use one of the stamps from our Random Dots Strips set to stamp white ink over the whole panel. When dry, add to your card base with some dimensional adhesive.
To gauge where you want the sentiment you choose, place your wreath die cut on the panel and mark where your sentiment will go; stamp in black ink. PRO TIP: This card is perfectly suited to use any of the wonderful new greetings in our new Reason for the Season set – just stamp below the wreath. Those sentiments are SO beautiful!
Using tiny dabs of liquid glue, add your fabulous berries to your wreath and add the bow at the bottom. Add your wreath die cut to your card with some dimensional adhesive and you've got something so pretty ready to go!
Did you even imagine that a spring wreath die cut could turn into such a beautiful Christmas card? Here's what you will want to make this: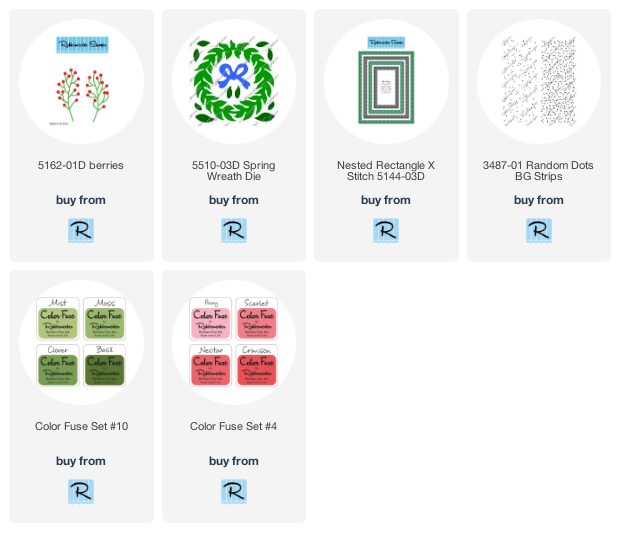 Take a look at your stash and see what you have that can give you a wreath die cut that you could modify as Melinda did. Experiment and see what you come up with to get your holiday cards done early this year!