You just have to check out this idea for cute die cut gnome cards in unexpected colors!
Today we are showing off a design for such cute die cut gnome cards from Carol. Her adorable scene and her bright colors make this a card we can't stop admiring. And we are sure that your friends and family, should they be lucky enough to receive one of these from you, would be showing this off to anyone and everyone!
Carol has shared her detailed steps for making this card and so we are going to share them with you. Let's listen in as Carol describes her process.
First stamp the images from the Autumn Gnomes Set with black marker-safe ink. I like to go ahead and stamp all of the main images plus extra of the supporting images to have as on hand–just in case I want them for the card design.
Stamping them all out helped me visualize how I might use them on my card. For example, I randomly had stamped the sitting gnome just above one of the mushrooms, which gave me the idea to perch him on top of it on the card!
I also like to use a color wheel to help me choose my colors. I knew I wanted to color the mushrooms in a warm orange for my autumn card and the color wheel led me to the other colors for the images.
The next two photos show most of the Copic markers I used.
When I was done coloring, I die cut the images with the coordinating Autumn Gnome Dies. I then created the card base, layers, and sentiment. I die cut a piece of patterned paper from the gorgeous new Festival of Colors 6 X 6 Paper Pad – coming this week! – using the largest Nested Deckle Rectangle die and adhered it to my card base.
Next using the two largest Nested Oval Small Stitch dies, I cut a piece of orange paper also from the Festival of Colors Paper Pad and white 80# card stock. I adhered the orange oval to the card base with glue.
Confession: I actually forgot to ink on some Artic and Sky Color Fuse Ink from Set #7 onto the white card stock oval before I did the next step. Do that now, not later as you will see that I did. Haha! (See below for my "recovery" tips.) Add some thin foam tape to the back of the white oval to adhere to the card.
Next I used a scrap of green card stock to die cut just the bottom portion of the second largest Stitched Oval. Then I die cut the top of the green piece with a Slimline Hills Die. Here is a photo for reference:
This is also a reference photo for the various layers before assembly:
Stamp the sentiment from the Autumn Gnomes Set with black ink. And I was very happy to find I could use the MSLI Rectangle Die to cut out the sentiment! So many of our dies can be used in different ways, if we look for those.
You may be wondering how I achieved inking the blue sky after I adhered the oval to the card and avoided getting blue ink everywhere. I used a scrap piece of printer paper and die cut the second largest Nested Oval Stitched die from it. Discard the oval, and place the remaining negative piece around the oval on the card. Tape off the green hill with removable tape and then just use an ink blending brush to add Arctic and Sky inks.
Yay, it worked! Now adhere the images and the sentiment with glue and/or foam tape. Use the extra small leaves and place them falling from the sky and some at the base of the gnomes.
Rubbernecker here again – oh our gosh, is this not the cutest? We love all the little details and those tiny leaves floating down….our hearts! Now of course Carol makes it look so easy with her expert coloring. But we are absolutely sure with a little practice, we can all learn to add color to our stamped die cuts to create our own adorable scenes.
If you'd like to make this card, here's what you will want to grab from the store. The new Paper Pad will be released later this week so be sure to come back and see it and all the other amazing things we have for you!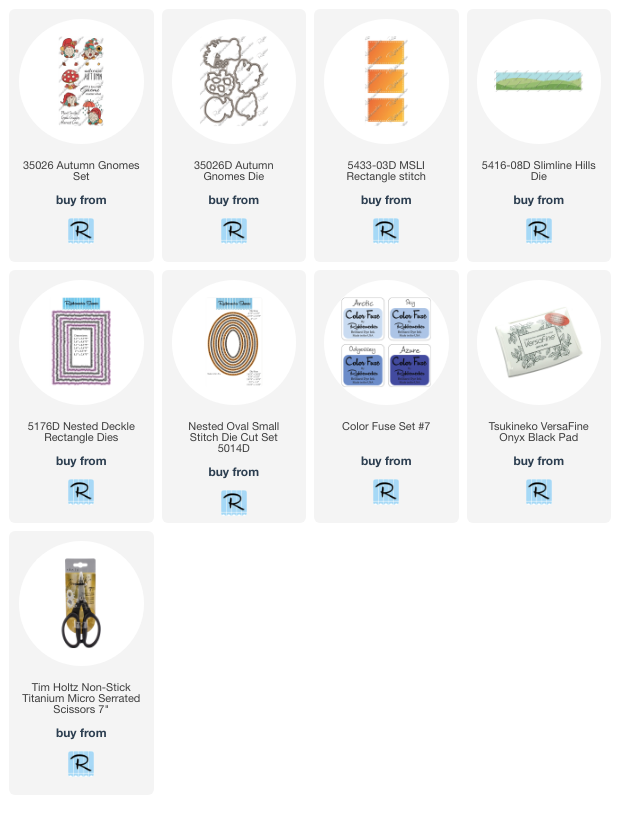 We can think of lots of occasions where these cute die cut gnome cards would be just perfect – they can celebratory, congratulatory, send a message of friendship or encouragement or just to celebrate the season. What would you send this card for?