Get some great tip on easy ink blending with masks to create this double layered look!
We've share a bunch of very cute and sweet Halloween cards – like this one and this one and this one. Today we've got a card that just tips into spooky with an effect that was created by easy ink blending with masks to create a double layered look.
Sammi says "When I saw the Witches dies, I immediately thought of a night sky with branches peeking through. The night sky was perfect for ink blending with the Color Fuse inks and I love how this scene came out!" So do we! That gorgeous ombre for the sky and the pale, misty moon create a slightly spooky vibe. Then with the witches popped over we get a perfectly iconic Halloween look.
Let's learn from Sammi how she created this and get her tips for her expert ink blending.
First choose a piece of card stock for your background. Sammi says "Picking card stock for ink blending is important. You should pick out smooth card stock for the best results. I used Hammermill card stock on this project" We are happy to say that when you use our Color Fuse Ink, you can get great results on more types of card stock than other inks – the smoother the better is still a good rule of thumb.
Sammi cut a circle from a scrap of card stock to serve as her masks. She used a piece of low tack tape on the back of the circle and placed it where she wanted her moon on her background.
She then ink blended using Color Fuse Inks from sets #5, 6, 7 (pictured below). First I ink blended lightly and then added layers until she got the look she wanted to achieve. You can always add more but you can't take ink away!
She removed the circle mask and tacked down the negative mask – the scrap from which the circle was cut over the uninked circle. Using the palest shades of Color Fuse Ink that was used on the background, Sammi added ink to this space, applying the ink with a circular motion to help add that rounded dimension to the moon.
Here's what the double layered ink blending looks like when both masked areas are inked up.
Now Sammi stamped the Framed Crows In Trees on the ink blended card panel with black ink. PRO TIP: Use a stamp positioner for this step so you can ensure that you get a good, solid impression to help create that delicious contrast. Using the largest die from the Nested Deckle Rectangle dies she cut out her gorgeous background.
She then cut out her choice of characters from the Witches die and cut her three times from white card stock. Using Color Fuse Inks from Sets #5, 6, 7 and 12 (pictured below), Sammi ink blended one of the witch die cuts.
She adhered the two white die cuts together and then adhered the ink blended witch to the top of the stack, offset slightly to create a reverse shadow.
She stamped her sentiment from the Pumpkin Dress Up set onto a scrap of white card stock, cut it down to a tight strip and matted it with a scrap of black card stock.

Sammi adhered her witch across the moon with some foam tape adhesive, added the sentiment the same way and added some purple jewels here and there. She added the whole thing to a white card base and this was ready to go!
Isn't this just gorgeous? And who would think it actually was that easy? If you'd like to make this same card, here's what you will want to have from our store: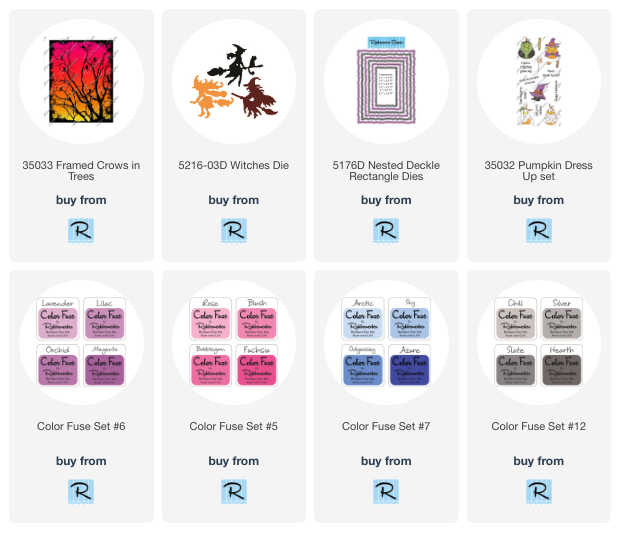 This is such a clever way to use easy ink blending with masks for an attention getting effect. It has our brain popping with other ways we could use this quick technique. What about you – how would you use this easy way to add so much color and dimension?