These handmade Fall greeting cards will take your breath away!
This month's theme on the blog is Fall greeting cards and projects and this particular card just proclaims the beauty of this season. Those vibrant, cheerful blossoms against that pretty, almost fading background speaks to how the Fall season both retreats into winter and puts forth the last of its spectacular dazzle. Let's get right into how we can make some of these at home thanks to Natasha's instructions!
Natasha started with our aptly named Autumn Fire stamp set and reproduced the coloring on the package with our vibrant and bold Color Fuse Inks in the shades from Sets #1, #2 and #4 with the foliage done in the colors from Set #10. Remember that we include a free layering guide custom created for each of our layered floral stamps sets so you WILL get the same beautiful results as Natasha when you follow it.
When all her stamping was done, Natasha cut everything out with our coordinating dies that make getting these shapes to stand out so much easier.
Now Natasha turned her attention to her watercolor background. She used an assortment of Ken Oliver liquid watercolors on a glass mat to blend her shades. This is such a fun and easy technique and your results come out different every time, giving you so many creative opportunities by just dripping and spritzing! The piece that Natasha chose to use on this card was made by adding a few drops of Turquoise, Ultramarine Blue, and Prussian Blue and just a touch of liquid gold to her glass plate, spritzing with a fine mist to move the colors around and "smooshing" the paper – that's a technical term (lol) – onto the watercolors. She repeated this until she got a piece that spoke to her creative soul. SAVE THE OTHER PIECES!
Once it was dry, Natasha die cut her watercolored panel with one of our Nested Deckle Rectangle dies and added a teeny bit of metallic splatter to echo the gold and create a little visual movement. While she was waiting for that to dry, she stamped her sentiment onto a scrap of black card stock in Versamark and heat embossed it with white powder. She trimmed this down into a neat little rectangle and set it with her floral die cut elements.
Now she put this beautiful Fall card together. She adhered her watercolor panel to her card base with some adhesive tape and then added her flowers and leaves to the front with both foam squares and liquid glue to create dimension and depth. She popped her greeting on with some foam tape and then added a few gems here and there to emphasize the reflection of light from the gold and to enhance the "movement" of the background. STUNNING!
This card really does take your breath away, doesn't it? Here's what Natasha used from our store to make this card: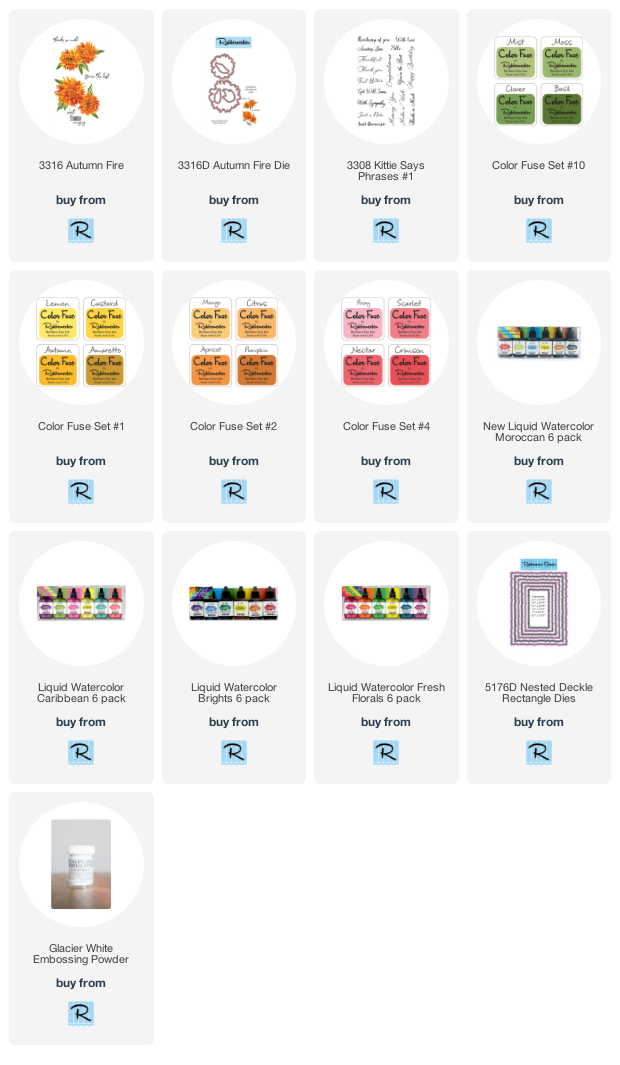 There are lots of occasions that call for Fall greeting cards and this one could be used for any occasion with its bright bold blooms and that lovely, almost watery background. If you are anything like is, you are looking around now to see when you have time to try one of these out for yourself!