Another look at creating cards with floral layer stencils step by step.
In a previous post, we shared one way to create a card with floral layer stencils step by step. Today we are sharing another approach from Ricky which yields results every bit as gorgeous AND on a mini slimline base to give you extra space for all your good wishes. Let's get the details and follow along!
Ricky started by stamping the flower from our Someone Like You stamp set. Note that this is one of the main differences from Carol's post; she did her layering first and outline stamping after.
Ricky chose to render his rose in shades of blue from Color Fuse Set #7. He started with Sonata ink and colored over Layer One and half of Layer Two because he wanted to use just two shades though there are three layers for the petal details.
He then used Sierra for the other half of Layer Two and the details in Layer Three.
And then he used Moss and Clover from Color Fuse Set #11 to color his leaves.
When he was done, Ricky cut out his now colorful image with our coordinating die. And while he had his die cutting equipment out, he used our Mini Slimline Window Cover die to cut a piece of white card stock. He stamped the sentiment on the center panel of the window.
He then cut a mini slimline panel seized piece from a pale blue paper from our Modern Floral Paper Pad and adhered it to a mini slimline card base. He adhered his die cut window plus the center piece to the card front. He then placed his beautiful blossom on the card and adhered it at an angle for some added interest with some dimensional foam tape.
To emphasize his sentiment, he stamped the large "you" onto black card stock with Versamark ink and heat embossed it with white powder. After cutting it out with the coordinating die, he trimmed out the centers of the "y" and the "o" with an X-acto knife and then adhered it to the card above the sentiment with more foam tape.
Here are the things Ricky used today: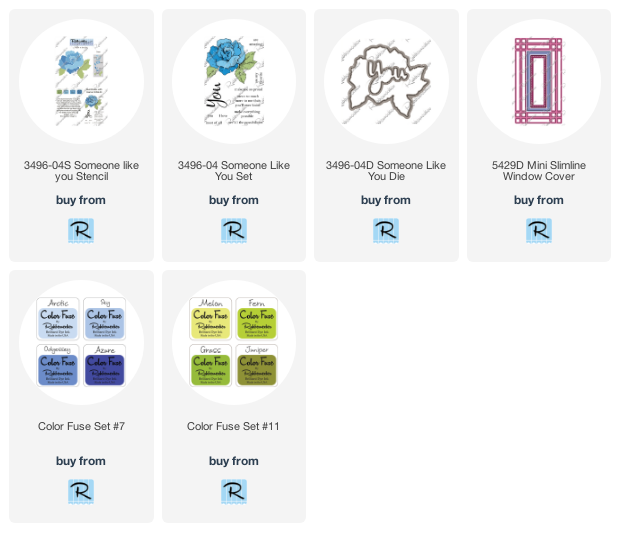 Now you've got a another look at how to use our floral layer stencils step by step and you can see that they are very forgiving and so easy to use! Pick your favorite and give cards like this a try!