See why this simple floral thank you card can have therapeutic benefits!
Did you ever had a day when your soul just needed to sit down and color, like when you were a kid? Well today's simple floral thank you card gives you just that opportunity. Melinda says "I stamped a whole page of the florals from Always On My Mind stamp set. I grabbed a bunch of alcohol markers in colors I was drawn to and sat down and started coloring. Such a relaxing de-stressing activity."
Let's get Melinda's steps so we can get in on the vibe.
Melinda started by stamping all of the flowers in our Always On My Mind stamp set with a Copic-friendly ink onto white card stock. PRO TIP: if you have the time and the inclination, stamp TONS of these images to color and cut out to have to use later. After all, this is "therapy"!
As she said, Melinda chose whatever colors she felt like using – trust your creative gut! – and colored in her flowers. We may or may not be able to attest that this is a fabulous activity to do while marathon watching something on TV.
When she was done with her therapy coloring, Melinda cut out her flowers with our coordinating die. While she had her die cutting machine going, she used our Quilted Stitch Pierced Cover die to cut a card panel sized piece of navy blue card stock, cut the script portion of the Thanks Word Die With Shadow set three times from scraps of white card stock and and once from gold glitter paper and then cut another piece of white with our Rectangle Combo OPC #4, selecting the smallest frame and tucking the rest in with her die for future use.
Melinda now arranged her flowers onto her navy die cut, playing around with them to make them appear as if they were winding across and up the card front.
When she liked what she saw, she adhered her flowers with a mix of liquid glue, setting aside a few of the blooms from her arrangement. She adhered her little white frame to her card front, allowing it to overlap her adhered flowers to enhance the feeling of depth on the card.

She stacked her word die cuts together with the gold on top using liquid glue and then popped it into her frame.
Melinda then adhered those reserved flowers with dimensional adhesive to add even more depth to her design.

SO pretty and offered some double duty!
Here's what Melinda used today: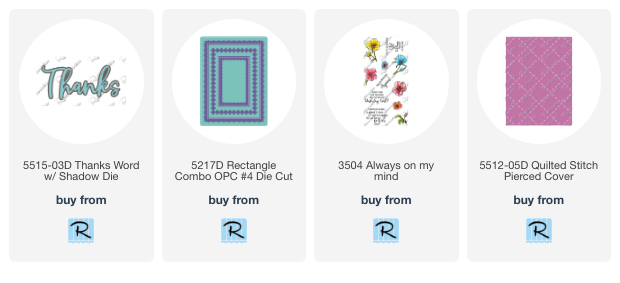 This simple floral thank you card is so pretty and when something like this is also fun to make, it makes sense to make more! Be sure to save this idea so when YOU need to sit for a spell and be creative you've got a plan!