How many times have you wanted to send a greeting card about coffee?
If you are like Renee, today's designer, you love to make a greeting card about coffee! Renee loves coffee cards and clearly, many of you do, too, since anything we create that has to do with coffee flies out of here!
Renee really liked the idea of adding a vintage style background to her coffee card today and she's sharing how she got that look in today's post. Let's follow along!
First, Renee stamped our Coffee Background using Pecan Color Fuse Ink onto white card stock using her stamp positioner. After stamping with the brown, Renee cleaned off the stamp and stamped again using Versamark ink. She then heat embossed the panel with clear powder.
PRO TIP: You don't need every color of embossable ink. You can combine your colored ink of any kind with Versamark and be able to heat emboss. You can use this double stamping technique or you can stamp into your Versamark first and then into your colored ink. The image will be just juicy enough from the Versamark to hold onto whatever powder you want to use. Just DON'T do that in the reverse; you will have a mess on your Versamark pad!
Now, to create the antique, vintage vibe on this panel, Renee used a light brown distress oxide ink and lightly buffed it over her stamped image. Don't worry about getting it "perfect" because the lighter and darker areas contribute greatly to that aged look! When Renee had added all the ink she wanted, she then spritzed it with a spray bottle to give it some water spots to age it even more.
When it was completely dry, Renee trimmed her edges and double matted this panel onto kraft and then black card stock for some depth. She added this onto her red card base at an angle to accentuate the playfulness of her added owl element and catchy sentiment.
Next Renee stamped Granger the Owl onto white card stock, colored him in and cut him with the coordinating die. In order to make sure that her gorgeous background stood out, Renee tucked Granger into the corner, half on the card and half on the background to anchor him and add some continuity with his stack of older looking paper.
Renee cut up her white embossed on black sentiment and added it with foam tape and added a couple of little wood-look dots to help keep the theme of a rustic, antique feel.
Here are goodies you will want to have out or add to your cart to make this card yourself: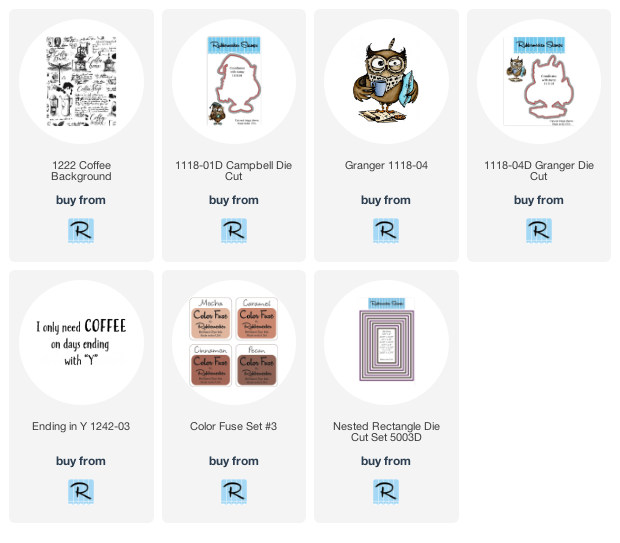 There you have it – a fun greeting card about coffee that you could use for just about any occasion!