See how to use your handmade watercolor backgrounds for cards two ways!
There are lots of ways to make watercolor backgrounds for cards and today Melinda is going to share an easy way to make not just a gorgeous background but double down on the design and make two cards from the results! Let's get the steps from Melinda….
First, take a scrap of any fairly stiff piece of plastic packaging or a piece of acetate. PRO TIP: Flimsy material, such as plastic wrap, will add to much of its own texture to this technique. While that can certainly add an interesting element to a project, Melinda found the smoother blends worked better for this design. Drip some Cerulean Blue Ken Oliver Liquid Watercolor onto the plastic – it will bead up a little, not to worry! Now take a card front sized piece of watercolor paper and place it over the ink, tapping lightly, picking up and repositioning and tapping again until you have a look you like.
Let this panel dry or hit it with your heat tool and repeat this process with Violet or Orchid Liquid Watercolor. Dry this application and over stamp with our Script Border #1 in Whisper Color Fuse Ink. Splatter with a little gold watercolor or gold pigment ink and set it aside to dry completely.
When the panel is completely dry, use our Flower #5 die to cut the shape over your inked and stamped area. Save the background for the second card! While you have your die cutting machine out, cut three more leaf shapes from plain watercolor paper. Also take a piece of 4″ X 5 1/4″ white card stock and cut it with our Nested Rectangle With Pierce die and again with our Circle Lattice die, set off to one side.
For the sunny panel visible through the lattice, cut another piece of white card stock to 4″ X 5 1/4″ and blend Autumn and Citrus Color Fuse inks on the right side. Adhere this to one of your card fronts.
Stamp your choice of words along the side of the open lattice on your die cut panel vertically and adhere the die cut panel over the inked area on your card front with foam tape for a nice shadow. Now adhere your inked and stamped leaf shape die cut over the card, allowing the edges of the die cut to hang slightly off the panel for some visual movement.

Now for your second card! Cut your inked and stamped panel that you die cut the leaf shape out of and cut it with the same Nested Rectangle With Pierce die. Adhere this with tape runner to another card base. Take those three leaf shapes you cut from plain watercolor paper and adhere them together with liquid glue – this gives some lovely simple dimension! Adhere this element into the die cut space on the card front with more liquid glue. Now all that's left is your choice of sentiment on a closely trimmed scrap and this card is ready!
PRO TIP: When you are trying out these cards we share and they aren't occasion specific, don't add a sentiment until you need a specific card. Tuck them away in a special section of your card stash and then when you need a card for any reason, you will have a whole bunch you can look through, customize the greeting and look like a total rock star no matter the occasion!
Here are the items you will want to grab from the store to make a whole stack of these two for one – "twofer" – cards!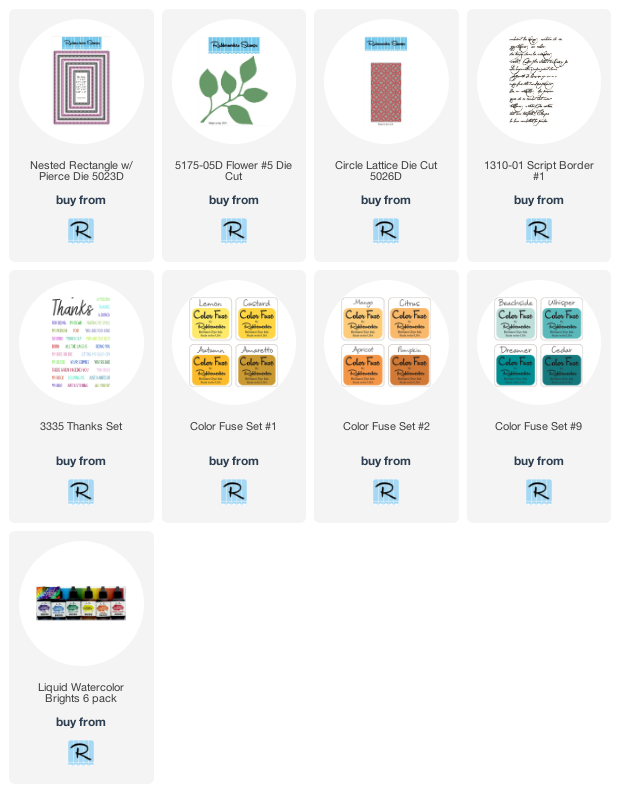 We hope you try out your own version of this easy way to make watercolor backgrounds for cards AND get two for one!