Stained glass stamping is so easy and it creates the most beautiful cards!
You may not have heard of stained glass stamping but it is one of the prettiest techniques and it's actually really easy. Today Carol is taking us through how to do this technique and we know you are going to be hooked!
First, let's make the card base. Stamp our Splatter background stamp onto your card front with Slate ink from Color Fuse Set #12. PRO TIP: Using a neutral color in a small, all-over pattern may not seem all that exciting on a background but when you see how this helps your stained glass stamped elements stand out you will return to this simple step over and over!
Stamp your sentiment in the bottom right hand corner – you might want to use a stamp positioner in case you have to re-stamp! – with Versafine Onyx black ink or a hybrid ink that will let you heat emboss this with clear powder to let it pop on the background.
Now die cut our Deckle Frame die four times from white card stock and adhere all of them together with liquid glue for a lovely, substantial frame. Adhere this over your splatter panel with foam tape.
Now let's make some "stained glass"! Brush a piece of vellum with your anti-static tool. PRO TIP: Carol says to use 40# vellum because lighter material might not stand up to the heat embossing. Stamp the flowers, leaves and stems from our Heavenly Hydrangeas set with Versamark ink and heat emboss with white powder. PRO TIP: Let your heat tool preheat and be sure to move your tool over the surface more than you normally do – both of these will help prevent the vellum from warping.
Now, flip your embossed vellum over and color the BACK with your Copic markers. NOTE: Alcohol marker do yield the best results on vellum but do NOT try to blend as you normally would because the color will get messy and muddy. You can try other coloring media but know that you may need to heat set it to make it color fast.
Carol found that coloring with her lightest shades and dotting or flicking darker colors over the areas she wanted to shadow worked well. You will see that the back of these colored elements are bright and vibrant. Just wait……
Die cut your flowers with coordinating dies and fussy cut the others. Now flip them over and – VOILA! – they look like stained glass! Arrange them in a way that makes you happy and adhere with tiny pieces of foam tape or tiny foam dots and glue dots. Carol said that her coloring helped to hide the adhesive from the front so you may want to be picky where you do place the adhesive. PRO TIP: Allow some of the stamped and die cut pieces to overhang outside the frame to add to the illusion of movement.
Doesn't this just make you want to stamp all day? Here are the items from our store Carol used on her project today: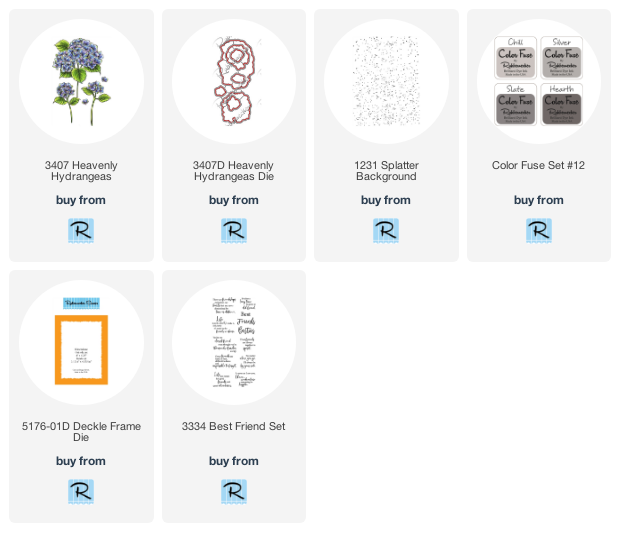 We keep thinking of new ways to use this stained glass stamping technique on other projects and cannot WAIT to hear how you use it!