Today we've got a cute Halloween gnome card that truly shows the versatility of these funny little fellows! And our designer today has shown how using a unified color scheme can really make a handmade card pop! Here, Carol stuck to the same basic colors of Color Fuse ink and coordinating shades of Copic markers and you can really see how there's a mood for this card but each element stands out in such an artistic way.
First, Carol used a cloud stencil and her Color Fuse inks to blend in some cloudy layers on her background. Once she had her clouds done, she used Black Soot Distress ink to add some shading along the top and sides. PRO TIP: adding a darker color around the edges of your background adds both a visual "layer" of color and helps to create a focus on the images inside the shading.
Then she cut her hills and inked them up with varying shades of green Color Fuse – Fern, Grass and Juniper. Even though most of these hills are hidden by the gnomes, they add a LOT of visual depth to this scene.
And to add even more texture, Carol added some die cut and inked up grass at the bottom.
Then Carol moved on to the details. She die cut some pumpkins and ivy and colored them up with more Color Fuse inks and added some glossy accents to the pumpkins which helps those colors show off their vibrancy.
After stamping the gnomes with Copic safe ink, she colored them in with Copic markers all in the same shades as the Color Fuse ink she'd used so far and used a clear sparkle pen to add a few shimmery details to their hats and clothing. A quick run through her die cutting machine with the coordinating dies and they were ready to be added to her card! She used a variety of flat and dimensional adhesive to help continue the illusion of depth in the scene. PRO TIP: dimensional adhesive doesn't just pop up an element on a card but also adds shadows which really help to create that illusion.
She stamped the greeting onto black with Versamark and heat embossed it with white embossing powder to help bring the white highlights in her card forward. She found that the smallest Nester Tag Stitched die was the perfect height for her greeting but was too wide. PRO TIP: she modified the shape by shifting the die slightly over her die cut piece and ran it through a second time to "lop off" the extra material she didn't need. That too was added with dimensional adhesive.
Here are all the fun things you will want to pull out or put in your shopping cart to make this adorable card: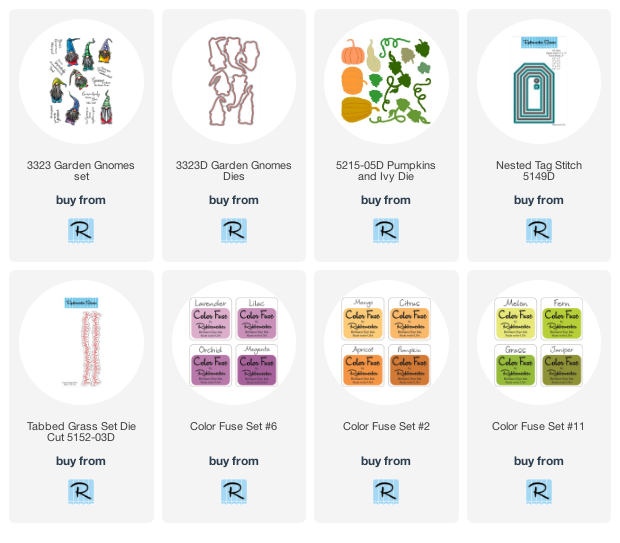 Are you someone who just loves gnomes? We can't believe how they FLY off our shelves so there must be lots of gnome fans out there! If YOU know someone who loves them, too, think about sending them a Halloween gnome card like this one and be the ultimate "treater"!